Thank you Gladys and thank you for getting the shipment to me so quickly. We received it on Friday so we are on target to have a great event on Wednesday. Thanks again!
-Valierie Garland - American Airlines
More Customer Testimonials

Port Authority Silk Touch Interlock Polo

http://www.anypromo.com/apparel/business-wear/port-authority-silk-touch-interlock-polo-p674143

(20)

Lock in Savings
Add to Cart
Promotional products:
The next generation of Silk Touch™ softness, our incredibly smooth interlock knit styles resist wrinkles for a look you'll appreciate at work or on the weekend.


6-ounce, 65/35 poly/cotton interlock.
Flat knit collar.
Taped neck.
3-button placket.
Dyed-to-match buttons.
Open hem sleeves.
Side vents.

Size Chart Please See Below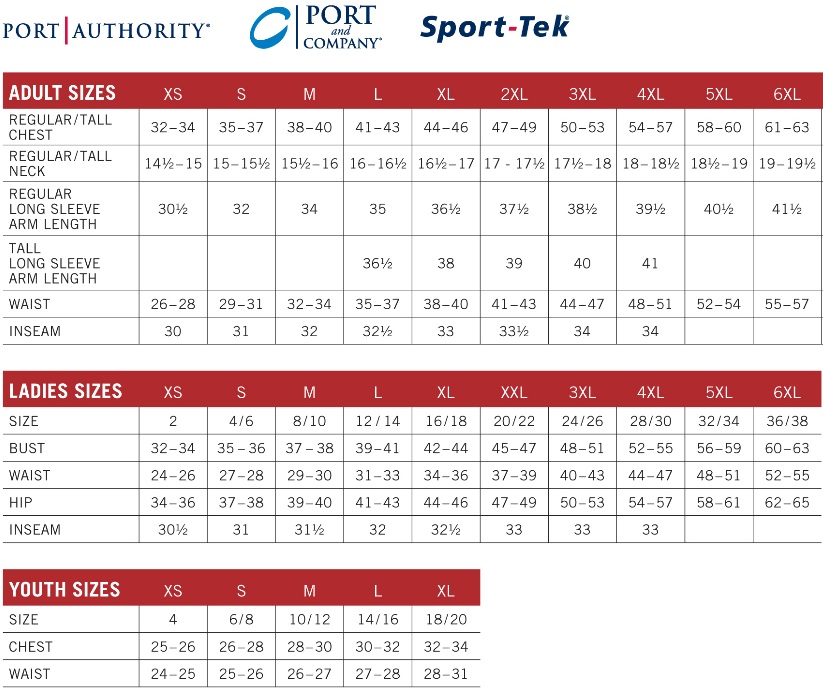 TO TOP
TO TOP
TO TOP
Customer Review:

(20)

5

Port Authority Silk Touch Interlock Polo
Port Authority Silk Touch Interlock Polo

Kaden

IP:

74.82.6.*

04/02/2013

The product is great quality and the printing was perfect. Fast delivery as well.

---

(Did you find this review helpful)
Port Authority Silk Touch Interlock Polo

Sadie

IP:

130.71.17.*

04/02/2013

The polo shirt was just what we expected.

---

(Did you find this review helpful)
Port Authority Silk Touch Interlock Polo

Elijah

IP:

24.127.201.*

03/31/2013

We received many positive comments about this product from our members. Thank you.

---

(Did you find this review helpful)
Port Authority Silk Touch Interlock Polo

Gage

IP:

66.252.18.*

03/26/2013

It was an excellent hit! I liked everything about the product, especially the price, which was the best I found.

---

(Did you find this review helpful)
Port Authority Silk Touch Interlock Polo

Lauren

IP:

138.234.40.*

03/25/2013

I believe they're great. Production and delivery time is ideal!! Very professional look.

---

(Did you find this review helpful)
Port Authority Silk Touch Interlock Polo

Peyton

IP:

204.202.77.*

03/25/2013

Precisely what I was expecting after I purchased the product.

---

(Did you find this review helpful)
Port Authority Silk Touch Interlock Polo

Sarah

IP:

74.205.23.*

03/21/2013

Overall it had been a great buy for the cost. Excellent printing!

---

(Did you find this review helpful)
Port Authority Silk Touch Interlock Polo

Joseph

IP:

129.186.68.*

03/15/2013

The logo on the products came off really easy. We had purchased these before.

---

(Did you find this review helpful)
Port Authority Silk Touch Interlock Polo

Katie

IP:

140.99.94.*

03/08/2013

Everything that arrived so far is excellent and just as described!

---

(Did you find this review helpful)
Port Authority Silk Touch Interlock Polo

Bryce

IP:

212.63.189.*

03/03/2013

Everybody thinks they are great! Love them!

---

(Did you find this review helpful)
Port Authority Silk Touch Interlock Polo

Genesis

IP:

71.214.191.*

02/27/2013

The cost was unbeatable. Everybody loves this item! Not one complaint.

---

(Did you find this review helpful)
Port Authority Silk Touch Interlock Polo

Jeremiah

IP:

64.12.135.*

02/22/2013

I loved the quality and the great price that you offered.

---

(Did you find this review helpful)
Port Authority Silk Touch Interlock Polo

Brittany

IP:

65.24.209.*

01/24/2013

Beautiful color. No dislikes. I have been extremely satisfied with my product. The quality of the product has been exceptional.

---

(Did you find this review helpful)
Port Authority Silk Touch Interlock Polo

Kennedy

IP:

207.174.237.*

01/22/2013

I loved the Polo shirt!

---

(Did you find this review helpful)
Port Authority Silk Touch Interlock Polo

Lucas

IP:

192.126.67.*

01/22/2013

We'll definitely be working with AnyPromo.

---

(Did you find this review helpful)
Port Authority Silk Touch Interlock Polo

Katelyn

IP:

192.206.29.*

01/18/2013

The polo shirts were the perfect style that we were looking for.

---

(Did you find this review helpful)
Port Authority Silk Touch Interlock Polo

Ryan

IP:

216.71.211.*

01/18/2013

Again thank you all so much. Alicia was excellent. The product met my anticipation in each and every way. Thank you for all your help.

---

(Did you find this review helpful)
Port Authority Silk Touch Interlock Polo

Cesar

IP:

96.28.246.*

01/12/2013

The quality of the products ordered were impeccable. The price was the Greastest!

---

(Did you find this review helpful)
Port Authority Silk Touch Interlock Polo

Gavin

IP:

65.34.245.*

01/12/2013

The ordering process was easy, and the turnaround time was quick.

---

(Did you find this review helpful)
Port Authority Silk Touch Interlock Polo

Alicia

IP:

131.140.127.*

08/29/2011

I've found for all my purchases with respect to this product was super fast delivery with anypromo prime, I am very satisfied with your purchase, product quality and delivery. Thanks anypromo.

---

(Did you find this review helpful)