24%
OFF

16 Oz Acrylic Double Wall Spirit Tumbler With Threaded Lid & Matching Straw Blue

http://www.anypromo.com/mugs-drinkware/tumblers-travel-mugs/16-oz-acrylic-double-wall-spirit-tumbler-with-threaded-lid-matching-straw-blue-p634975

(13)

Lock in Savings
Add to Cart
Promotional products:
We are always on the go and in a hurry, making customized tumblers wonderful giveaways that can get your company noticed.
The blue Promotional 16 0z.
Spirit Acrylic tumbler is double walled to keep your cool beverage cool.
Hot beverages are not recommended for this tumbler.
The tumbler is sized, 6"H x 4 "W without the matching straw, perfectly to sit next to a computer or picked up to take on the go.
This made in the USA product, can be imprinted in two ways.
Place your logo on the front side of the cup or wrap your design around the whole tumbler.
The front surface measures 3" x 3 ¼" and the wrap surface measures 3" x 9".
There are several standard imprint colors to make your choice from, and you can choose to incorporate up to two colors in your design.
Gift and mailer boxes are an available option.
Please see below for more details on insulation: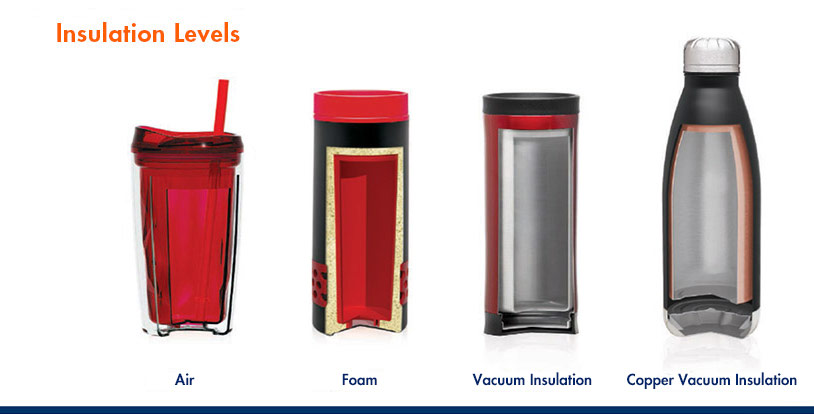 GEO
APOLLO
AMERICANO
H2GO®FORCE
INSULATION
air between inner and
outer walls
foam between inner and
outer walls
no air between inner
and outer walls
no air between inner and
outer walls + copper plated
inner wall
INSULATION
LEVELS
good
better
best
superior
INSULATION
VALUE®
HOT 2 hours
COLD 4 hours
HOT 3 hours
COLD 6 hours
HOT 6 hours
COLD 12 hours
HOT 8 hours
COLD 16 hours


Companions:


Special Instructions:
Rush Services Detals:
Orders requesting Rush Service are available for 1 color/1 location imprint only.
Rush services are not available for paper insert tumblers and 4 color process orders.
TO TOP
TO TOP
TO TOP
Customer Review:

(13)

5

16 Oz Acrylic Double Wall Spirit Tumbler With Threaded Lid & Matching Straw Blue
16 Oz Acrylic Double Wall Spirit Tumbler With Threaded Lid & Matching Straw Blue

Angel

IP:

74.84.192.*

08/28/2014

An excellent gift for my clients. We used these for our Rainbow Reading Party, and the kids loved them.

---

(Did you find this review helpful)
16 Oz Acrylic Double Wall Spirit Tumbler With Threaded Lid & Matching Straw Blue

Juliana

IP:

68.96.247.*

07/24/2014

Exceeded my expectations! Very sharp and perfect for what I needed. I liked the quality of the logo color.

---

(Did you find this review helpful)
16 Oz Acrylic Double Wall Spirit Tumbler With Threaded Lid & Matching Straw Blue

Avery

IP:

164.104.146.*

07/07/2014

Excellent giveaway item!! I absolutely LOVE AnyPromo Products! They are economical and the products are high quality! Love them! We will indeed be doing more specialty business with you in the near future.

---

(Did you find this review helpful)
16 Oz Acrylic Double Wall Spirit Tumbler With Threaded Lid & Matching Straw Blue

Johnathan

IP:

216.215.67.*

07/06/2014

I have to say that the logo imprinting was fantastic! Great item and the college kids love these! The finished product switched out great!

---

(Did you find this review helpful)
16 Oz Acrylic Double Wall Spirit Tumbler With Threaded Lid & Matching Straw Blue

Nicholas

IP:

66.207.20.*

06/20/2014

this exceeded my expectations, especially given the low cost!!! the products were excellent. We are ordering 500 more today. I was great, you did an excellent job.

---

(Did you find this review helpful)
16 Oz Acrylic Double Wall Spirit Tumbler With Threaded Lid & Matching Straw Blue

Wesley

IP:

98.191.157.*

06/18/2014

My logo and text printed very clearly. They looked great! the service that comes with it.

---

(Did you find this review helpful)
16 Oz Acrylic Double Wall Spirit Tumbler With Threaded Lid & Matching Straw Blue

Breanna

IP:

212.63.177.*

08/04/2012

We bought this for our teachers for Teacher Appreciation Day!! It looks great and with personalization on the front.

---

(Did you find this review helpful)
16 Oz Acrylic Double Wall Spirit Tumbler With Threaded Lid & Matching Straw Blue

Trenton

IP:

66.234.149.*

07/20/2012

Appreciate the superb service~~ Wonderful - everybody loves these plus they were great gifts for the participants at our event.

---

(Did you find this review helpful)
16 Oz Acrylic Double Wall Spirit Tumbler With Threaded Lid & Matching Straw Blue

Mark

IP:

146.114.169.*

07/20/2012

We purchased the Leatherette Tumbler for a perfect attendance gift. I had many problems with other companies getting my logo on the item and delivering the product on time. However, your company did the opposite and deliver a day earlier.

---

(Did you find this review helpful)
16 Oz Acrylic Double Wall Spirit Tumbler With Threaded Lid & Matching Straw Blue

Nelwina

IP:

24.213.88.*

05/18/2012

Great job!!!. We used this item like a give-way to individuals who completed a subscription application to the Club. I will depend on AnyPromo for any future projects. Thank you!

---

(Did you find this review helpful)
16 Oz Acrylic Double Wall Spirit Tumbler With Threaded Lid & Matching Straw Blue

Lynn

IP:

128.5.45.*

05/18/2012

Top quality item. Imprint was somewhat small, however the detail was directly on! The merchandise was perferct, precisely what we ordered and wanted. Thanks. Quick- easy -affordable

---

(Did you find this review helpful)
16 Oz Acrylic Double Wall Spirit Tumbler With Threaded Lid & Matching Straw Blue

Makayla

IP:

170.21.87.*

05/04/2012

This item appears very fashion. The printing is crisp and detailed. Extremely pleased using the item.

---

(Did you find this review helpful)
16 Oz Acrylic Double Wall Spirit Tumbler With Threaded Lid & Matching Straw Blue

Trentin

IP:

74.86.119.*

08/16/2011

Love love love! And so does everyone I give one to!

---

(Did you find this review helpful)