24%
OFF

16 Oz Acrylic Double Wall Spirit Tumbler With Threaded Lid & Matching Straw Clear

http://www.anypromo.com/mugs-drinkware/tumblers-travel-mugs/16-oz-acrylic-double-wall-spirit-tumbler-with-threaded-lid-matching-straw-clear-p634974

(13)

Lock in Savings
Add to Cart
Promotional products:
With people becoming more environmental conscious, tumblers with straws are becoming very popular and are everywhere.
This makes them a great choice to use as client gifts or product giveaways.
The, made in the USA, Promotional 16 Oz.
Spirit Acrylic Tumbler will make a great choice.
The double wall construction of the cup will help to keep any drink cool.
It is not recommended for hot beverages.
It is perfect size to sit on a desk or in the cup holder of a car; it measures 6" H x 4"4 without the straw.
The tumbler comes in clear however the lid comes in several fashionable colors to make your cup unique.
There are two imprint options available.
Wrap your logo around the whole cup or have it imprinted on one side.
Imprint colors come in several fashionable shades and you can choose up to two colors.
Optional gift and mailer boxes are available.
Please see below for more details on insulation: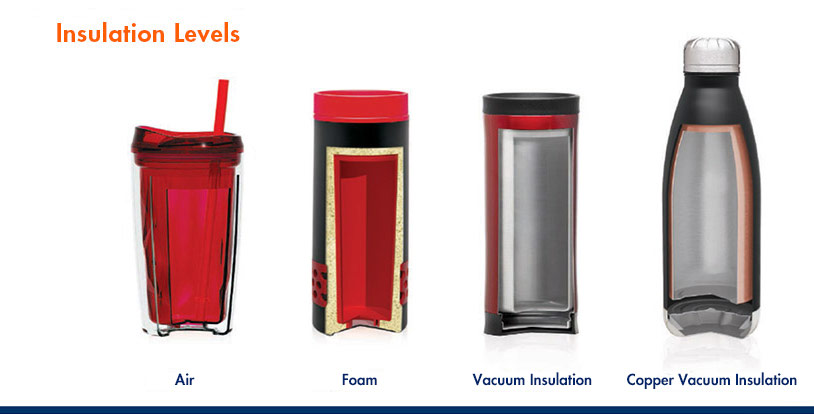 GEO
APOLLO
AMERICANO
H2GO®FORCE
INSULATION
air between inner and
outer walls
foam between inner and
outer walls
no air between inner
and outer walls
no air between inner and
outer walls + copper plated
inner wall
INSULATION
LEVELS
good
better
best
superior
INSULATION
VALUE®
HOT 2 hours
COLD 4 hours
HOT 3 hours
COLD 6 hours
HOT 6 hours
COLD 12 hours
HOT 8 hours
COLD 16 hours


Companions:


Special Instructions:
Rush Services Detals:
Orders requesting Rush Service are available for 1 color/1 location imprint only.
Rush services are not available for paper insert tumblers and 4 color process orders.
TO TOP
TO TOP
TO TOP
Customer Review:

(13)

5

16 Oz Acrylic Double Wall Spirit Tumbler With Threaded Lid & Matching Straw Clear
16 Oz Acrylic Double Wall Spirit Tumbler With Threaded Lid & Matching Straw Clear

Lilly

IP:

192.251.75.*

09/01/2014

Love the way this item looks! It appears really sharp and made an effect on individuals who received it. substantial weight; doesn't look cheap.

---

(Did you find this review helpful)
16 Oz Acrylic Double Wall Spirit Tumbler With Threaded Lid & Matching Straw Clear

Nevaeh

IP:

204.248.52.*

07/24/2014

I gave this to all my Team Mmbers for Pride in Food Service Week and they really appreciated it. We use this every year in our company and all our clients seem to be happy

---

(Did you find this review helpful)
16 Oz Acrylic Double Wall Spirit Tumbler With Threaded Lid & Matching Straw Clear

Jared

IP:

212.63.184.*

07/23/2014

Excellent value and high quality. No complains.

---

(Did you find this review helpful)
16 Oz Acrylic Double Wall Spirit Tumbler With Threaded Lid & Matching Straw Clear

Brayden

IP:

194.117.101.*

07/07/2014

Also got great response from sales people. Color looks great

---

(Did you find this review helpful)
16 Oz Acrylic Double Wall Spirit Tumbler With Threaded Lid & Matching Straw Clear

Megan

IP:

209.169.67.*

07/06/2014

the imprint was absolutely beautiful. I was a little hesitant to print white ink on a dark product before first being able to see it for myself, but when it arrived I was blown away. Well done AnyPromo.com! Very attractive and simple to use. super thank y

---

(Did you find this review helpful)
16 Oz Acrylic Double Wall Spirit Tumbler With Threaded Lid & Matching Straw Clear

Colby

IP:

149.175.178.*

07/02/2014

The quality of imprint is excellent and we are very pleased with our order.

---

(Did you find this review helpful)
16 Oz Acrylic Double Wall Spirit Tumbler With Threaded Lid & Matching Straw Clear

Faith

IP:

212.63.184.*

07/08/2012

High quality, great benefits, excellent imprint and color - all printed nicely and straight. Glasses were precisely what I was expecting. Durable and imprint was well-done.

---

(Did you find this review helpful)
16 Oz Acrylic Double Wall Spirit Tumbler With Threaded Lid & Matching Straw Clear

Mya

IP:

168.161.103.*

07/08/2012

The merchandise is top quality and also the imprinting is ideal! Looks very professional... Inscription very obvious. Excellent product. Great product, exactly as referred to and proven.

---

(Did you find this review helpful)
16 Oz Acrylic Double Wall Spirit Tumbler With Threaded Lid & Matching Straw Clear

Katie

IP:

128.230.122.*

07/08/2012

Excellent gift to promot your brand. Well made, arrived on time. Good product for reasonnable price.

---

(Did you find this review helpful)
16 Oz Acrylic Double Wall Spirit Tumbler With Threaded Lid & Matching Straw Clear

Kayleen

IP:

172.152.102.*

05/21/2012

Prompt service, great focus on detail, easy to work with. I recieved excellent customer service and will definitely use this company again.

---

(Did you find this review helpful)
16 Oz Acrylic Double Wall Spirit Tumbler With Threaded Lid & Matching Straw Clear

Marcia

IP:

128.48.250.*

05/04/2012

Turned out very nicely. They're great, we like them and we've been delivering them to clients. Thank you for all the great customer support.

---

(Did you find this review helpful)
16 Oz Acrylic Double Wall Spirit Tumbler With Threaded Lid & Matching Straw Clear

Jarran

IP:

66.234.190.*

03/07/2012

Once I approved my artwork the order shipped very quickly. I thought I was going to have to spend a lot more time on this order than I actually did. The colors were fine. I was very pleased.

---

(Did you find this review helpful)
16 Oz Acrylic Double Wall Spirit Tumbler With Threaded Lid & Matching Straw Clear

Arleene

IP:

146.244.161.*

08/01/2011

Excellent! No condensation. Beautiful fun colors.

---

(Did you find this review helpful)