Our logo reusable grocery bags turned out great! Our golf complex is in a county that recently banned plastic bags so these have been a fantastic giveaway for our customers. Not only do we surprise them with a gift they can use but we ...more
-Rose Agracewicz of Chuck Corica Golf Complex
More Customer Testimonials

BIC Clic Stic Ballpoint Pen - Custom Pens

http://www.anypromo.com/writing/pens/bic-clic-stic-ballpoint-pen-custom-pens-p603394

(23)

Lock in Savings
Add to Cart
Promotional products:
The custom BIC Clic Stic Ballpoint Pen is a classic customer favorite! Not only is this a budget friendly option, but customers have been raving about it for years! This AnyPromo Top 100 item offers a FREE 1 color and 1 location imprint to showcase your custom logo! Not only is this a great tool to help build your image, but it a great tool to help unite your team! Customers love to order these for: company meetings, campaigns, fundraisers, school events, pink awareness events, and more! Key Features:
100% Customizable! From the pen color, to the imprint!
Promotional BIC Clic Stic pens are simple, but reliable pens, and you are completely in charge of the design.
Complimentary design preview available with imprinted order.
Sleek, stylish, design is comfortable for writing.
You can choose the colors of the pen, too.
Ink colors available in: Blue, Black, or Red.
The imprint area of: 2 1/8" W x ¾" H is great for featuring contact information.
From the time you submit the order, the pens will be ready to ship in 15 business days or less.
Your price is only 31 cents each when ordering 50,000 or more!
The barrel of the pen allows for a maximum of 3 different colors (additional charges may apply).
A one color imprint logo on the barrel is included in the item cost.
With this pen being 100% customizable, you are sure to boost your brand!
People Also Search For:
Custom Pens, Custom BIC Pens, Custom Clic Stic Pens, Promotional Pens, Promotional BIC Pens, Promotional Clic Stic Pens, Logo Pens, Logo BIC Pens, Logo Clic Stic Pens, Imprinted BIC Pens, Imprinted Pens, Imprinted Clic Stic Pens, Custom Ink Pens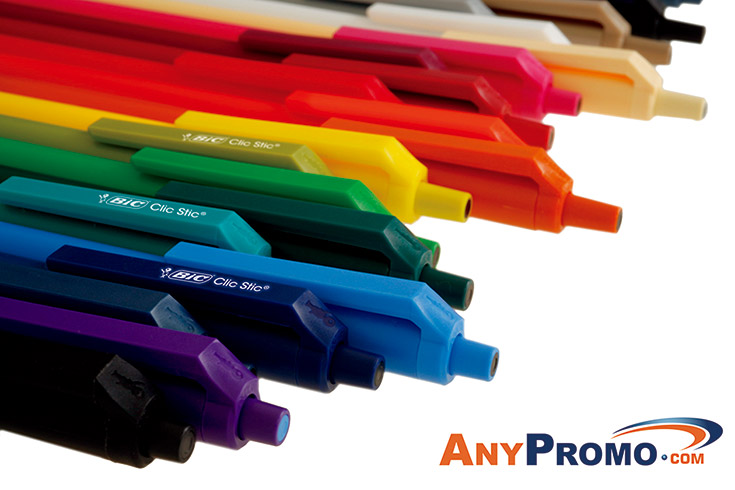 Companions:
TO TOP
TO TOP
TO TOP
Customer Review:
(

23

)

5

BIC Clic Stic Ballpoint Pen - Custom Pens
BIC Clic Stic Ballpoint Pen - Custom Pens

BIC Clic Stic Ballpoint Pen - Custom Pens

Layla

IP:

172.139.227.*

08/28/2014

this is the perfect packaging for our product. It's nicely sized, which we could use for our other giveaways in the future! Our order was processed & shipped out quickly

---

(Did you find this review helpful)
BIC Clic Stic Ballpoint Pen - Custom Pens

BIC Clic Stic Ballpoint Pen - Custom Pens

Grant

IP:

66.118.224.*

08/19/2014

this will be a great give-away for constituants and staff! Veronica, our account manager, is terrific! She made everything so easy. I like that you keep our old artwork so the reordering process is fairly easy.

---

(Did you find this review helpful)
BIC Clic Stic Ballpoint Pen - Custom Pens

BIC Clic Stic Ballpoint Pen - Custom Pens

Garrett

IP:

64.240.100.*

08/03/2014

Good value product, quick turnaround. You get what you pay for. We distributed these during our kiddie party. We had them paint on it, and get creative with it! These were popular at our physician expo.

---

(Did you find this review helpful)
BIC Clic Stic Ballpoint Pen - Custom Pens

BIC Clic Stic Ballpoint Pen - Custom Pens

Brandon

IP:

67.233.82.*

07/31/2014

the bags are wonderful. I got just what I order and was very please with them. Thank you Nice looking.

---

(Did you find this review helpful)
BIC Clic Stic Ballpoint Pen - Custom Pens

BIC Clic Stic Ballpoint Pen - Custom Pens

Dalton

IP:

208.121.96.*

07/31/2014

Great item and repair! We are happy that it was done at such short notice and it was done well.

---

(Did you find this review helpful)
BIC Clic Stic Ballpoint Pen - Custom Pens

BIC Clic Stic Ballpoint Pen - Custom Pens

Cooper

IP:

146.1.225.*

06/26/2014

thanks, AnyPromo! It's a pleasant gift for first-time site visitors.

---

(Did you find this review helpful)
BIC Clic Stic Ballpoint Pen - Custom Pens

BIC Clic Stic Ballpoint Pen - Custom Pens

Carlos

IP:

204.131.178.*

12/09/2013

We were very happy with the product and also very happy with the ordering proces. I was presented with other options and it worked out great. All in all no issues and I will likely order again. outstanding service and craftsmanship!

---

(1 out of 1 people found this review helpful. Did you?)
BIC Clic Stic Ballpoint Pen - Custom Pens

BIC Clic Stic Ballpoint Pen - Custom Pens

Jared

IP:

69.11.27.*

11/30/2013

The sales rep who attended to my orders was excellent. Efficient service all round. Thank you!

---

(1 out of 1 people found this review helpful. Did you?)
BIC Clic Stic Ballpoint Pen - Custom Pens

BIC Clic Stic Ballpoint Pen - Custom Pens

Jada

IP:

67.241.216.*

11/28/2013

Quick service, printing is clearly eligible, quality is excellent. Overall, a great product for tradeshows and giveaways!

---

(1 out of 1 people found this review helpful. Did you?)
BIC Clic Stic Ballpoint Pen - Custom Pens

BIC Clic Stic Ballpoint Pen - Custom Pens

Emma

IP:

195.112.185.*

11/23/2013

I bought this item for our teachers, plus they appear happy using the product! Not only do the pens look great, they write very well and are comfortable to write with.

---

(0 out of 1 people found this review helpful. Did you?)
BIC Clic Stic Ballpoint Pen - Custom Pens

BIC Clic Stic Ballpoint Pen - Custom Pens

Levi

IP:

65.19.199.*

11/19/2013

You guys do a good Job! Great product with a great cost!

---

(Did you find this review helpful)
BIC Clic Stic Ballpoint Pen - Custom Pens

BIC Clic Stic Ballpoint Pen - Custom Pens

Omar

IP:

209.104.101.*

11/15/2013

I am very happy with the service and product. I think it is a wonderful gift to give. Our logo design Imprint is extremely outstanding.

---

(Did you find this review helpful)
BIC Clic Stic Ballpoint Pen - Custom Pens

BIC Clic Stic Ballpoint Pen - Custom Pens

Katherine

IP:

66.128.197.*

11/08/2013

I'll recommend AnyPromo to my business partners. Greatly writes and we get so many compliments from our customers.

---

(Did you find this review helpful)
BIC Clic Stic Ballpoint Pen - Custom Pens

BIC Clic Stic Ballpoint Pen - Custom Pens

Audrey

IP:

24.187.5.*

11/02/2013

I would of liked the logo to have been bigger. Everybody Loved them!

---

(Did you find this review helpful)
BIC Clic Stic Ballpoint Pen - Custom Pens

BIC Clic Stic Ballpoint Pen - Custom Pens

Kevin

IP:

139.177.174.*

10/31/2013

It's certainly worth the price I paid. The product was perfect as well as good quality for the event. the overall product was quite nice.

---

(Did you find this review helpful)
BIC Clic Stic Ballpoint Pen - Custom Pens

BIC Clic Stic Ballpoint Pen - Custom Pens

Daisy

IP:

67.228.172.*

10/18/2013

Precisely what I was expecting. they look great. We are so happy. My employees absolutely really likes them.

---

(Did you find this review helpful)
BIC Clic Stic Ballpoint Pen - Custom Pens

BIC Clic Stic Ballpoint Pen - Custom Pens

Mary

IP:

158.219.159.*

10/17/2013

We used them at our Vacation Bible School, handed them to everybody. The art work was nice and we love the pens.

---

(Did you find this review helpful)
BIC Clic Stic Ballpoint Pen - Custom Pens

BIC Clic Stic Ballpoint Pen - Custom Pens

Tanner

IP:

192.246.229.*

09/26/2013

Purchased for teacher appreciation week. Nice little gift, nice message.

---

(Did you find this review helpful)
BIC Clic Stic Ballpoint Pen - Custom Pens

BIC Clic Stic Ballpoint Pen - Custom Pens

Hannah

IP:

204.7.101.*

09/23/2013

Was very impressed with how it turned out the quality was good and the logo was perfect.

---

(Did you find this review helpful)
BIC Clic Stic Ballpoint Pen - Custom Pens

BIC Clic Stic Ballpoint Pen - Custom Pens

Kathryn

IP:

170.16.253.*

09/18/2013

This is a great product!! I have purchased it in the past and I always have co-workers ask me to get them one as well. there is nothing that I didn't like about it.

---

(Did you find this review helpful)
BIC Clic Stic Ballpoint Pen - Custom Pens

BIC Clic Stic Ballpoint Pen - Custom Pens

Aubrey

IP:

166.108.126.*

05/19/2013

Very nice. I was very satisified and pleased with the final product. There is really nothing about this product that we just don't like.

---

(Did you find this review helpful)
BIC Clic Stic Ballpoint Pen - Custom Pens

BIC Clic Stic Ballpoint Pen - Custom Pens

Trenton

IP:

209.242.126.*

05/19/2013

Veronica was excellent to answer all of my questions and inquiries!!! Thank you! Very satisfied with how our logo looked on the product.

---

(Did you find this review helpful)
BIC Clic Stic Ballpoint Pen - Custom Pens

BIC Clic Stic Ballpoint Pen - Custom Pens

Daniel

IP:

130.90.15.*

03/27/2013

Our logo design looks excellent. Great item. Everyone liked it.

---

(0 out of 1 people found this review helpful. Did you?)