Hello,Rosy,I received the tumbler cups today and they look great! Thank you so much for listening to me and for getting my order to me on time. I really appreciate your effort.
-Shana Jollo- California Medial Association
More Customer Testimonials

6 Panel Beach Ball

(15)

Lock in Savings
Add to Cart
About this 6 Panel Beach Ball
:

Make a splash during your next marketing campaign with this customized two color, 6 panel beach ball! This 12" party toy features panel colors of blue or red and inflates to a 7" diameter.
Offering an imprint area of 3" x 1" this colorful beachball can help increase visibility for your company name or logo.
Great for pool parties, beach outings, parks, and other summer time outdoor activities! Imprinting available on white panel only.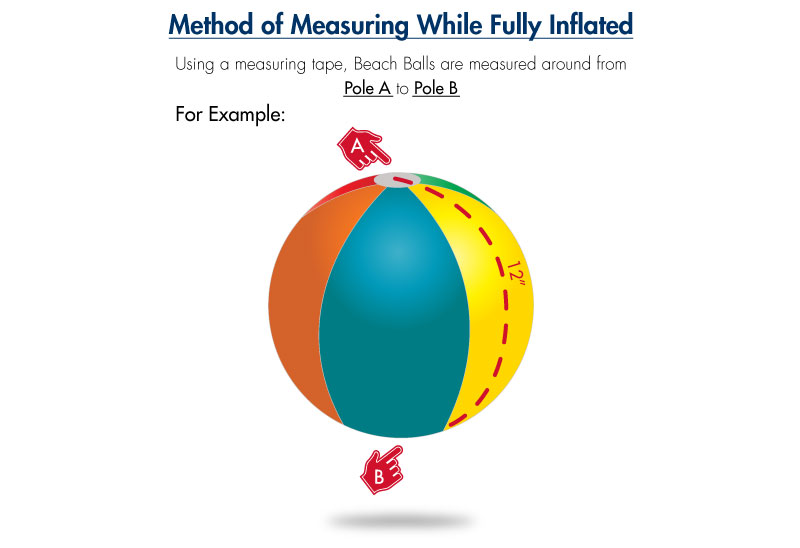 TO TOP
TO TOP
TO TOP
Customer Review:
(

15

)

5

6 Panel Beach Ball
6 Panel Beach Ball

6 Panel Beach Ball

Patrick

IP:

24.246.129.*

08/03/2014

The logo and imprint color is perfect. Product turned out great!

---

(Did you find this review helpful)
6 Panel Beach Ball

6 Panel Beach Ball

Anna

IP:

64.185.175.*

07/19/2014

The merchadise turned out great. they do look very good. I bordered the products for our company's yearly holiday gift to our employees.

---

(Did you find this review helpful)
6 Panel Beach Ball

6 Panel Beach Ball

Tristan

IP:

97.84.116.*

07/10/2014

the cost for everything was wonderful- far more affordable than other sites. Very pleased with the product. Got our company logo/slogan to fit thanks to your art department! Loved the products!

---

(Did you find this review helpful)
6 Panel Beach Ball

6 Panel Beach Ball

Max

IP:

71.252.82.*

06/15/2014

the product is of high quality for the price. the product was high quality, reasonably priced, and shipped within the time we were quoted. Our staff, and students, were eager to own one.

---

(Did you find this review helpful)
6 Panel Beach Ball

6 Panel Beach Ball

Lily

IP:

212.153.77.*

06/13/2014

We used these as holiday gifts and they were a hit. Our company order the product for our party. It was really fun to see people doing silly things outside of the office!

---

(Did you find this review helpful)
6 Panel Beach Ball

6 Panel Beach Ball

Marissa

IP:

68.104.94.*

06/12/2014

As soon as I put them up students notice them, read them and start talking the event--Great visual reminder during the Week. the see-thru design is very useful on drawings and prints. We're very pleased. It's very good quality made to last for several years.

---

(Did you find this review helpful)
6 Panel Beach Ball

6 Panel Beach Ball

Omar

IP:

69.57.144.*

12/07/2013

I really like it, it is precisely what I had been looking for also it switched out much better than I was expecting. the product and service was great.

---

(Did you find this review helpful)
6 Panel Beach Ball

6 Panel Beach Ball

Katelyn

IP:

136.235.25.*

12/07/2013

My Clients all really like this! Looks great. Got what I expected. I liked the price, color choices, fast service.

---

(Did you find this review helpful)
6 Panel Beach Ball

6 Panel Beach Ball

Ethan

IP:

216.45.49.*

12/07/2013

the logo was printed exactly as it should have been. good quality and very good price.

---

(Did you find this review helpful)
6 Panel Beach Ball

6 Panel Beach Ball

Manuel

IP:

65.173.184.*

09/03/2012

Appreciate your promptness and great customer support! Nicely balanced and seamless comfort to work with.

---

(Did you find this review helpful)
6 Panel Beach Ball

6 Panel Beach Ball

Kendall

IP:

67.159.57.*

08/02/2012

Every time I order from AnyPromo the product is exactly what I expect. Our organization was happy with this product.

---

(Did you find this review helpful)
6 Panel Beach Ball

6 Panel Beach Ball

Marquis

IP:

24.204.130.*

04/19/2012

Looks great on our bodies! and feels very comfortable. These were just like we expected - keep surprises away.

---

(Did you find this review helpful)
6 Panel Beach Ball

6 Panel Beach Ball

Madelene

IP:

141.146.17.*

04/04/2012

Awesome cost. Very pleased with the high quality of item I received.

---

(Did you find this review helpful)
6 Panel Beach Ball

6 Panel Beach Ball

Sidney

IP:

67.218.119.*

03/18/2012

We wanted something for adults and children. This was perfect. The delivered item is what I expected, and will fit nicely with my presentations.

---

(Did you find this review helpful)
6 Panel Beach Ball

6 Panel Beach Ball

Manning

IP:

64.13.200.*

12/23/2010

Everyone took these at the health fair until we were out. Good product!

---

(Did you find this review helpful)