Thanks again, Raquel. Everything is great. I'm sure we'll have another need for your company services in the future. You've all been great to work with and the products are excellent so we'll be ...more
-Barbara Asaro
More Customer Testimonials

18" Metallic Beach Ball

(11)

Lock in Savings
Add to Cart
About this 18 Metallic Beach Ball
:

Make a splash during your next marketing campaign with this customized multicolor beach ball! Includes imprint on assorted colored panels (addtl charge to imprint one particular colored panel).
This colorful beach ball can help increase visibility for your company name or logo.
Great for pool parties, beach outings, parks, and other summer time outdoor activities!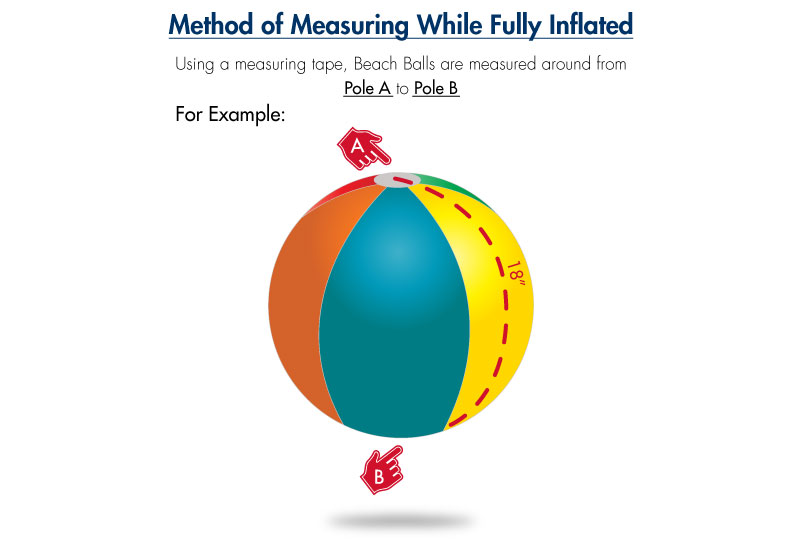 TO TOP
TO TOP
TO TOP
Customer Review:
(

11

)

5

18" Metallic Beach Ball
18" Metallic Beach Ball

18" Metallic Beach Ball

Lydia

IP:

67.211.246.*

10/04/2014

Was surprised at how they came on time for our event. What I like about the product is that it is good and sturdy. Worth the price and definitely a great gift for clients

---

(Did you find this review helpful)
18" Metallic Beach Ball

18" Metallic Beach Ball

Kaitlyn

IP:

212.8.176.*

10/04/2014

I felt is had a good weight which adds to the overall quality.

---

(Did you find this review helpful)
18" Metallic Beach Ball

18" Metallic Beach Ball

Johnathan

IP:

158.77.104.*

10/18/2013

The cost is completely on point. They appear nice and sturdy. the quality of the samples they were great and so was the service. Thank you

---

(Did you find this review helpful)
18" Metallic Beach Ball

18" Metallic Beach Ball

Christian

IP:

4.37.217.*

10/18/2013

They showed up clean, pressed, vibrant, and pretty. They have vibrant colors and good touch.

---

(Did you find this review helpful)
18" Metallic Beach Ball

18" Metallic Beach Ball

Aaron

IP:

195.10.194.*

10/18/2013

they were good. The colors are very cheerful. Awesome! Very durable and also the perfect size to place other free gifts in.

---

(Did you find this review helpful)
18" Metallic Beach Ball

18" Metallic Beach Ball

Evelyn

IP:

63.236.52.*

10/03/2012

The printing on the product really make it stand out. Recipients very pleased. The staff at AnyPromo.com are very efficient, helpful and professional.

---

(Did you find this review helpful)
18" Metallic Beach Ball

18" Metallic Beach Ball

Hunter

IP:

207.220.52.*

10/03/2012

We thought these turned out much better than we expected! Good job! The service we received during the entire ordering process was above and beyond.

---

(Did you find this review helpful)
18" Metallic Beach Ball

18" Metallic Beach Ball

Lizandra

IP:

209.206.86.*

05/16/2012

I love the color!!! The web site was super easy to select an item and design. Showed exact costs.

---

(Did you find this review helpful)
18" Metallic Beach Ball

18" Metallic Beach Ball

Jett

IP:

89.221.8.*

04/14/2012

It had been very nice precisely what I was expecting. We were very pleased to be able to give our participants a product like this.

---

(Did you find this review helpful)
18" Metallic Beach Ball

18" Metallic Beach Ball

Edmond

IP:

128.183.8.*

04/14/2012

I'm happy using the product and the results of the merchandise we bought were extraordinary. Looked good. The products were great!!!

---

(Did you find this review helpful)
18" Metallic Beach Ball

18" Metallic Beach Ball

Samuel

IP:

74.205.26.*

09/13/2011

Its was great for what we needed them for. not to expensive still in good price range. It is a very attractive and functional premium gift.

---

(Did you find this review helpful)