Promotional Headwear (Hats & Beanies)
AnyPromo has a wide selection of hats perfect for any promotional needs! Choose from hats, caps, beanies, and more - all customizable with a company logo. Promotional hats are a great way to get brand exposure and keep employees and customers happy. They also make great gifts for clients and vendors. AnyPromo hats are high quality and available at a great price. Order yours today!
Hats & Beanies:
879 items total
Top Sellers

"It came out awesome looking with our logo and the quality of the hat is perfect, especially for the great price! Anypromo was very helpful with the designing of the item and keeping us in the loop regarding shipping expectations." - Rachel
"We'll continue to order these! the cap was quality material, constructed very well, the logo and pricing couldn't be beat." - Jordyn
"I really like it! great job with all the materials that we have ordered for our event!" - Derrick
Thank you Rachel, Jordyn, and Derrick for your review! With every order, we make sure everything goes smoothly.
Our sales team is always standing by to help you complete your order! Whether it's with an art issue, or payment issue, we're there for you!
When you're at an event, notice how many people have the trucker cap. It's a popular item that has officially entered the fashion scene. If you're thinking about giving these out at your next event, let us help you!
Here are a few features that your customers will love about the Custom Flat Bill Trucker Cap:
100% Polyester Foam Crown
5 Panels and a Medium Profile
Structured crown and flat bill visor
Mesh back with adjustable plastic snap tab closure
Ready to order? Click here for the next step!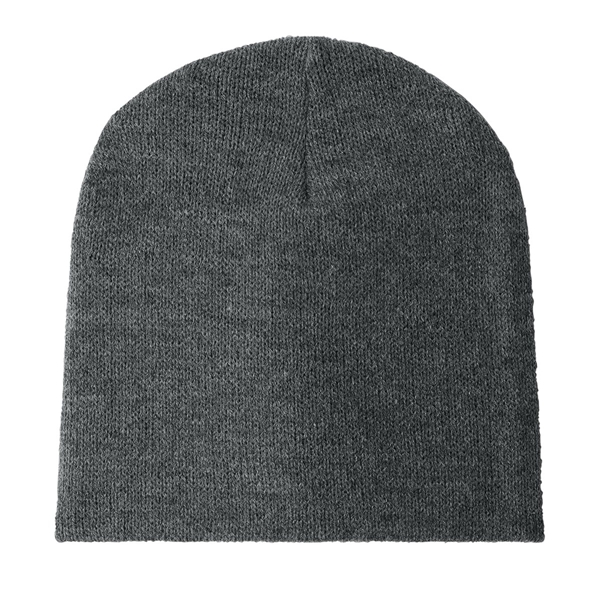 "The product came on time and seems to look very well produced" - Jason
"Not only is the beanie itself very soft, the embroidery is highly detailed and is really well done." - Dave
Thanks for the great reviews, Jason and Dave!
Here at AnyPromo, we make make sure our fast shipping lives up to its standards. Our custom beanies are always a hit during winter, and our products are never anything less than high quality with high-end custom imprinting.
Our Custom Port & Company Beanie Cap is on our Top 100 for a reason. Don't miss out on the following features of this custom beanie hat:
Available in a variety of solids colors or with a contrasting trim.
Voted Top 100 item all-year round.
100% acrylic fabric.
Don't miss out. Shop the Custom Port & Company Beanie Cap now!
Promotional Hats & Beanies
With 600+ stylish selection of headwear available, you'll find the perfect match that will make all your customers happy!
Embroidered baseball caps and custom beanie hats alike are a huge hit no matter which season you decide to order. Every item on AnyPromo is of high-quality, and specially priced for our customers.
The perfect fit is ready to be displayed at your next event! Our customer service team is standing by to help you place your order!
Custom Beanies Make Cool Swag
Many times event guests are bombarded with lackluster swag at every opportunity, so it is extremely important to stand out amongst other exhibitors. Our custom headwear is specially priced and proven to generate impressions while promoting your brand!
Search our site for a wide selection of promotional beanie hats, fedoras, and more to see for yourself how high our standards are when it comes to brand impact.
Click through our inventory of promotional hats and beanies on sale now.
Let's make marketing make cents!
Product Suggestions
Take a peek at our hot selection of stylish promotional head wear currently available. We're ready to help expedite your order, so give us a call!
Cover your head with these must-have promotional gifts!
Trending
Apparel is a popular customer product, don't miss out on representing your company. We have our most popular headwear available to you. With the top brands, we ensure the highest quality.
Our products are fun, hip and comfortable for all sizes.
Here's a few of our most popular hats & beanies available: