Labor day is around the corner, and you're likely thinking about the long 3-day weekend!
Most Americans think about a trip to the beach or barbecues during this time…
But that's not what marketers or business owners should have in mind.
When it comes to Labor Day, it's definitely one of the most important days to score HUGE shopping deals!
Last year, AnyPromo definitely succeeded in its Labor Day Marketing.
Our Labor Day Weekend campaign began on August 31, 2017 and ran until the end of Labor Day, September 4, 2017.
We sent out a themed email campaign with a special offer, shared it on social media, and blasted it all over our website!
We can openly share that August 31, 2017 was our highest day in revenue last year!
Success never tasted better, and we only hope to replicate an even greater achievement this year.
There are many tips & ideas we incorporated in our Labor Day Marketing to reach such an awesome goal and we're going to share the most important tips with you!
Succeed in your Labor Day Marketing with these tips:
Start Early
Don't forget your customers want to enjoy their 3-day weekend too. They're not planning to shop all weekend long.
So, make sure to start your sale before your customers sign-off for their mini vacay.
When we were scheduling our Labor Day Campaign last year, we were thinking Friday the 1st.
But how many Americans usually call off Friday to get a 4-day weekend? I know I'm guilty to have done that many times before.
For B2C businesses, you should take advantage of that extra day for your Labor Day sale.
B2B businesses should always start earlier so that your campaigns have a successful engagement rate. If you send out your campaign on the 31st of August, it may be a bit too late. You've probably lost potential sales because the majority of your customers may be out of the office.
Even though we had an excellent Labor Day campaign last year, we had a 12% increase in automatic replies.
Which means, customers clocked out days earlier for a longer vacation.
Boo! Potential sales lost.
For AnyPromo's Memorial Day Sale, I had about 5 of these pages in my inbox from our email campaign.
We had a really good Memorial Day campaign this year, so I'm hoping to see AWESOME results this Labor Day (and less automatic replies).
This year, look into starting your Labor Day campaign on or before August 30, 2018. The earlier the better.
Seasonal Change
Take advantage of this time.
Labor Day is the unofficial last day of summer! Mainly because students are back in school and employees no longer have their summer Fridays off.
Many businesses take advantage of this seasonal change by offering a "summer blowout", or introducing their new fall collection.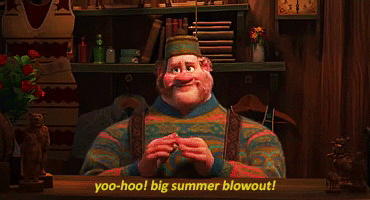 Give a big discount on items you want out of your store!
Make this your Labor Day offer if you have no plan yet.
But don't forget, there's another season coming into play after Labor Day.
FOOTBALL SEASON! America's biggest sport is back for another 5 months.
It's safe to say, marketing your company with football-related items or giving an offer on your biggest football related items will increase your revenue during Labor Day weekend!
Last September, our Small Football Stress Reliever had a 51% increase in sales.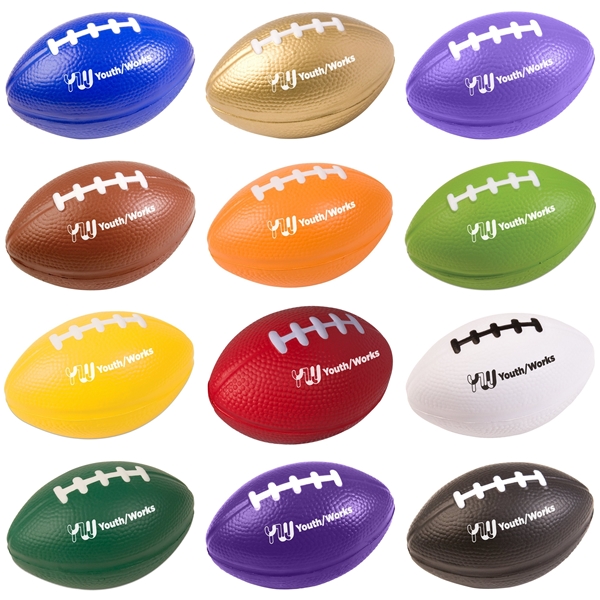 This information helped us indicate how popular football items are once the season begins.
Theme it!
Don't just create a bland campaign with no theme.
Center your campaign around a theme that coincides with your company.
You can always keep your Labor Day campaign safe with USA colors or Labor themes.
A great example with a company related theme is the following Labor Day email from BioLite:
BioLite focuses on selling items that bring energy anywhere and everywhere you go.
They have powered stoves, lights, and solar panels as their main items.
So how did they devise their Labor Day theme?
Well, BioLite knew some of their customers were going to be camping during Labor Day Weekend.
Not only did they want to display a relatable camping image, BioLite reminded their customers of important necessities for camping in the fall.
The image at the top captures a crucial necessity every camper needs while outdoors.
Think ahead. Fall is fast approaching, target your Labor Day campaign with a fall theme!
Speaking of visuals…
Adding images that capture the eye are really important in your Labor Day Marketing.
When you add images to your social media, your audience will reshare, retweet, or repost based on how awesome your image looks!
Visuals get shared more on social media, so it's okay to be selective in the process.
As an email marketer, I subscribe to a lot of companies.
I appreciate a good looking email, and when it comes to the images taken by Solé Bicycles I really feel their message.
They originated in southern California and definitely give that California vibe.
When I see their visuals, I feel Californian (even though I already am).
I feel if I purchase one of their bikes, I'm going to feel like I'm cruising right next to the beach!
Isn't that the whole point of images though? To make your customers feel that message you're trying to portray?
Take your customers away from their world for a bit with a really awesome visual!
Our marketing team here at AnyPromo likes to get free stock images from sites like Pixabay and Pexels, but most of the time we (I) definitely try to take the best images for our marketing campaigns.
Amp Up Your Email
Email marketing is vital in your Labor Day Marketing.
You have to make sure your message is clear with your offer or messaging.
Once you establish your offer or messaging then you can focus on the design.
This was AnyPromo's header image on our Labor Day email last year.
It was the email that helped us get our highest revenue in 2017.
This email even had a 43% increase in click-rate compared to our average.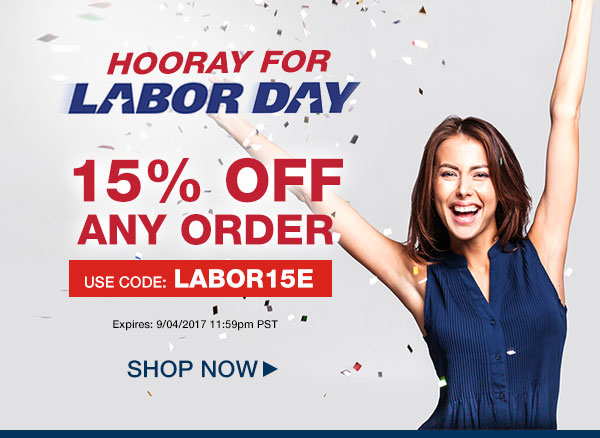 I'd like to think most of our B2B customers were feeling the same way as the person in the picture.
Happy! I mean, there's a 3-day weekend around the corner, wouldn't you be happy too?
Plus, the offer was very clear for the customer to easily see.
As I continue to progress as an email marketer by testing other email strategies, I decided to go with this look for our Labor Day Presale email:
I wanted to test a GIF from this email, but only the results will let me know how well this email performs on August 6th.
Since this is our Labor Day Presale email, it will give me a clue as to what email design I should go with when it comes to our actual Labor Day email.
If you have time to test designs, do so now.
Better email designs will definitely increase your click-through-rate, especially if your call to action is clean and clear.
But designing also means crafting the perfect subject line, because it's like poetry to an email marketer, therefore, still in the arts. 🙂
Be different than other companies who will most likely send the typical "SALE: 50% OFF".
No!
I like to be fun and punny with my subject lines. Those emails seem to get a better open rate than the bland ones that just state the offer.
"Less Labor, More 3-Day Weekends with SITEWIDE SAVINGS…"
I mean how relatable is this subject line? I would definitely love more 3-day weekends!
That subject line will be one of three subject lines I'll be testing for my Labor Day email campaign. I'll definitely end up adjusting it a bit, but I absolutely love creating subject lines.
Share with me your subject lines for your Labor Day email campaign in the comments below! 🙂
Keep it Social with Media
All weekend your customers will be on social media to share their weekend fun!
Interact with your customers by allowing them to share with you an image of them with your company items.
Reshare, Repost, and Retweet!
Again with Solé Bicycles, their social media includes mainly pictures of their customers with their custom bikes.
It's pretty amazing what they do with their social media!
It's a social media marketer's dream to be given visuals by your very own loyal customers.
Who needs to create new visuals, when your customers are creating most of the awesome visuals for you?
Give your customers attention this Labor Day Weekend.
If you create a great relationship with your customers, the better the retention rate!
Reward your Employees!
The talk begins with your employees.
And by talk, I mean, are they talking good about your company outside of work?
If they are, great! They are representing you perfectly outside of the office!
But if you're employees are miserable, you don't want them to share why they don't appreciate your company with potential customers.
It can hurt your company through word-of-mouth.
This Labor Day Weekend reward your employees with a gift, whether it's a custom pen or a custom tumbler.
Small appreciation gifts can go a long way.
Have your employees talk good about your company and spread the word about all the great things your company does!
Here at AnyPromo, we make sure to have a summer bbq where we all get swag bags with awesome custom items.
It's a nice sentimental value to increase loyalty among employees.
Go out and own Labor Day!
If you implement these tips into your Labor Day marketing, you'll definitely have a successful campaign!
Don't forget to start your campaign early. Have a safe Labor Day weekend! 🙂
Have other tips to share with us? Let us know in the comments below!
---