Do you want screen printing, pad printing, direct digital, laser engraving, heat transfer, graphtec, or sublimation?
Are you printing on promotional pens, sunglasses, tote bags, t-shirts, tumblers, usb chargers, etc?
What type of logo, image or text do you want on these items?
It doesn't matter – all imprinting methods are the same, right? Not exactly…
I know that it can be a bit overwhelming trying to figure out the difference between all the imprinting options and processes available.
But we also know how hard it is to actually know what each imprint method is good for.
Knowing the differences can make ALL the difference in the quality of your promotional products.
I've put together this quick guide to help define a few imprint types and achieve the best design results for your promotional products.
What are the different types of Imprint methods?
Direct digital
A method by which the image is sent directly to the printer using digital files such as PDFs and those from graphics software such as Illustrator or InDesign. This eliminates the need for printing plates, which has a faster turnaround time. Best for: Writing instruments, drinkware
Graphtec
A full-color digital printing method for inserts. Best for: clock faces, watch faces
Heat transfer
A method by which a design is transferred to a synthetic fabric by heat or pressure. Printers use intense heat to press ink into the material, to ensure that the image or logo does not go anywhere. Sometimes, heat transfers are the only option if you want to imprint a logo with more than one color. Best for: Tote bags, T-shirts, Mousepads    
Laser Engraving
A method by which light is used to burn an image into the material leaving a clean and polished finish that is unable to peel off. This process is easy, clean, and simple. The image or logo is programmed into the laser software and then engraved onto the item. As each product is made of different materials, the laser engraved imprint appearance may vary by item. Best for: Metal pens, Wood items, Glass items
Pad printing (also called Tampography)
A printing process that can transfer a 2-D image onto a 3-D object. This is accomplished by using an indirect offset (gravure) printing process that involves an image being transferred from the cliché via a silicone pad onto a substrate. Best for: Stress relievers, pens, water bottles, candy
Screen printing
The direct imprinting of artwork onto the surface of a product. A screen is made by a mesh stretched manually over a frame. Using a blade to go over the screen, the ink will only pass through areas that are permeable. If the primary imprint method lists as screen print, one color ink is included. Best for: Tote bags, Water bottles, Plastic pens, Stress relievers
Sublimation
A method by which a 4-color design is transferred to a synthetic fabric by heat and pressure. It requires a heat press process that is a combination of time, temperature, and pressure. The results are permanent, high resolution, full-color print. The prints will not crack, fade or peel. Best for: t-shirts, fabric displays
Conclusion
So, now that we are informed about a few of the different types of imprint methods, it makes it much easier to decide what suits best for the type of print needed for your promotional products.
Each has its strengths and weakness but knowing which imprint method suits best for the type of product will produce the best results for your logo.
Imprinting turns ordinary objects into works of art and effective marketing prices for any company!
Post this on
your site (Embed Code):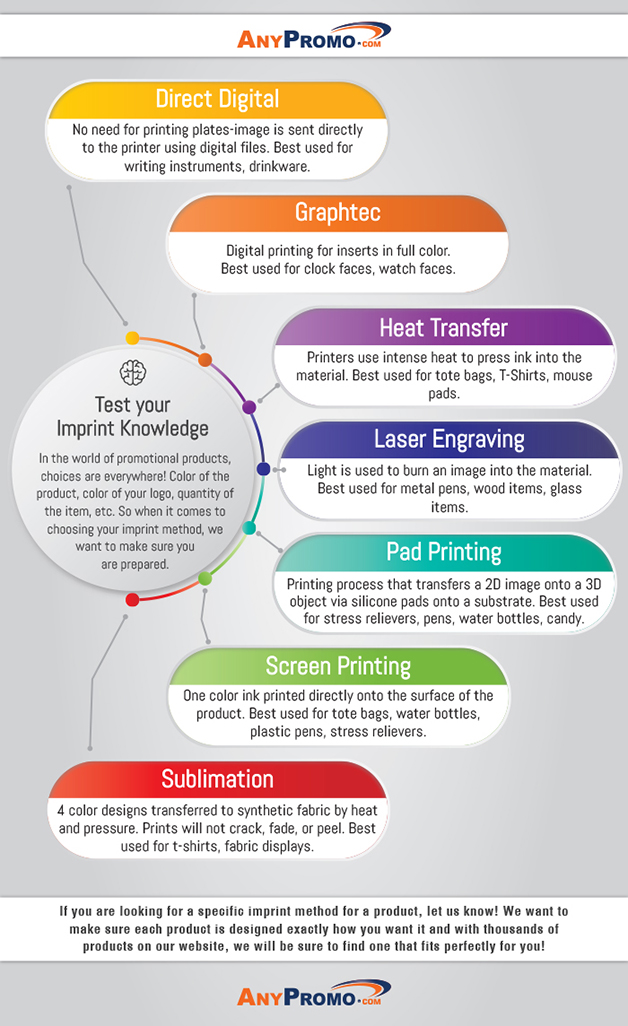 Post
this on your site (Embed Code):
---