40,000+ Positive Reviews
Over 200,000 customers served
99% of the Fortune 500 Use Us
Featured Automotive Accessories & Tools
View All >
100% Satisfaction Guarantee
Shop with confidence. Our customer service team can take care of any issue. Learn more about AnyPromo's satisfaction and 110% price guarantee. We not only match, but also beat any competitor's online advertised price for the same promotional item.
Trusted To Grow the World's Biggest Brands
Automotive
Promoting your auto brand, dealership or repair shop just got easier with automotive promotional products. Automobile giveaways are a perfect way to get more awareness for your business and build loyal customers who will continue to support your company or brand. We have wholesale giveaway items and auto marketing products for you to share with your customers and to show appreciation to your employees. We provide the best automotive products, from promotional automotive accessories, promotional license plate frames, automotive tools and hand tools for you to use in marketing your business. Your auto shop or dealership can giveaway branded tire gauges, phone chargers, or tool kits to your customers to boost loyalty and retain business. You can also offer promotional products to new customers to incentive them and say thank you for choosing your company or brand. Giving a simple yet powerful promotional gift to the people who matter most can make the difference between being the best among your local competitors or last.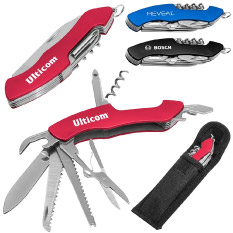 Hand Tools
Promotional auto hand tools are a great way to promote your automotive brand, especially if you have mechanic shop, provide auto insurance or have a dealership. With a variety of items to fit your needs, these promotional automotive hand tools will make your next event a smashing success. Spread the word to reach new customers with promotional automotive hand tools from AnyPromo.com! Get your hands on these durable and high quality products for deep discounts so you can impress and engage prospective clients and even influencers through this memorable gift.
Put your name or logo on promo tape measures, box cutter, tool kit, tire inflators, tunes whips, or needle nosed pliers while we tune up your marketing potential today!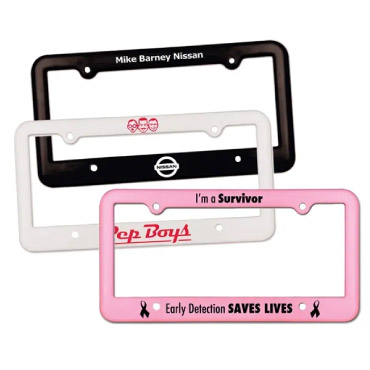 Automotive Signs
The road is paved with great opportunities - take the next turn onto AnyPromo.com for your best sign yet! You can grow your brand and community awareness with promotional car magnets, custom car license plate frame, and more! We can create custom promotional automotive signs that will take your marketing to the next level. There are few automotive promotional products that can marketing your brand as much as custom automotive signs, especially when they display your company's logo or motto. These promotional items help to brand your business like nothing else can! Put yourself up on the road with some creative marketing materials today!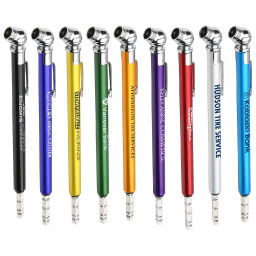 Automotive Tools
Give your business the gas it needs to keep running with these custom automotive tools! They come in handy for any automotive enthusiasts and mechanics, anytime, day or night. Show your love for cars in a creative way with custom automotive tools. These are giveaways people will keep, not throw in the junk drawer. We have a wide selection of automotive tools, such as auto escape tool, emergency multi function tools and various kits.
We offer the best wholesale pricing guarantee, where we will bleat anyone's prices by 10%. Our customer service is here to help you every step of the way for ordering your promotional automotive products.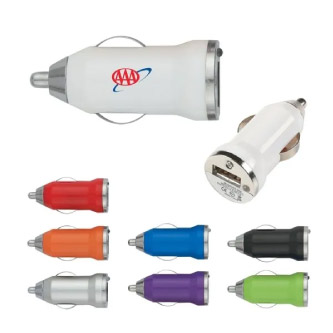 Automotive Accessories
For any company looking to get an edge on the competition and grow their business, promotional automotive accessories go a long way towards promotion and inspire thoughtful product reviews. We offer high-quality auto window squeegees, car covers, chargers, air fresheners and more that can be customized with your logo or other graphics for maximum branding potential. Our in-house designers are exceptional at coming up with logos that match your business or organization features in order to make a lasting impression on customers and promote your daily services. Print it on our promotional automotive accessories to get started!
Winning Promotional Auto Products
Giving away custom automotive accessories is a great way to get daily brand exposure. When someone has your promotional product in their car, they'll see your logo or custom design on their daily commute and weekend trips too. A great automotive promotional product can genuinely improve a recipient's quality of life. The average American worker spends months of their life driving when it's all added up. This is why giving away a small pro- motional convenience when on the road can add up to a lot of appreciation.
Automotive promotion isn't just limited to small conveniences though, these items can make a world of differ- ence for people when they need them most. Drivers are saved every day from getting lost with a dead smart- phone by having car adapters to plug in to charge their device. In colder climates, having an ice scraper can help drivers safely see the road. That's why cigarette lighter adapters and ice scrapers are popular giveaways for busi- nesses from all industries. They have real utility for people. Whether you are looking to fully deck someone out with branded emergency tools, promo car products, or are just looking for thoughtful and budget-friendly auto- motive promotional gifts, AnyPromo has a promotional automotive product to fit your needs.
Two of our best automotive products are our branded kits and car bumper stickers. Highway emergency kits come in very handy when a car crash happens. Most kits include a flashlight, jumper cables, gloves, and more. Bumper stickers are another customer favorite because they not only allow brands to advertise in traffic, but they are also great to stick anywhere.
Why do so many business owners trust AnyPromo for personalized automotive giveaways? AnyPromo is the best source for wholesale custom branded auto gifts because we stand by our products with a 100-day return policy and we guarantee the lowest online advertised price.
Promotional Auto Product Customization
With promotional automotive products, you have tons of customization options. Whether you are looking for screen printed windshield covers or pad printed cigarette lighter adapters, you are sure to find the perfect per- sonalized auto-related giveaway to represent your brand.
The 3 most common automotive giveaway customization methods are:

Screen printing, which involves applying one or more layers of ink to your custom auto product through a custom-made mesh screen of your logo or design.

Pad Printing, which involves dipping a printing pad in a custom plate of ink and applying your custom design or logo to the product's surface.

Full color printing, which involves digitally printing a full color image on your giveaway with CMYK (cyan, magenta, yellow, black) ink.
Most customers choose pad printing because it works well on curvy items like car power adapters for cigarette lighters. Pad printed adapters are a customer-favorite of businesses who work with commuters. That's why no modern car is complete without being equipped with a custom branded USB power adapter.
When giving out custom auto-related giveaways, we know how important it is for the imprint to be clear and distinct. We have a 100-day return policy so you can shop with assurance that you will get a quality logo on your product. We also have a graphic design team at your disposal, free of charge, so you do not have to be an expert to get great looking custom printed car chargers and bumper stickers.
Customized Auto Accessory Price Match Guarantee
AnyPromo is the cheapest online source for custom branded automotive accessories and tools, guaranteed. If you find any of these car-related products customized cheaper anywhere else, we won't just match the price, we'll beat it.
Emergency roadside kits are very popular because there is no better way to earn a positive brand sentiment than to be there to save the day in a time of crisis.
Automotive dealers and high school booster clubs are big fans of show their names in traffic with our custom printed license plate frames.
When buying automotive gifts wholesale for giveaways, we know how much our customers care about getting a turbocharged deal. That's why if you find the same car giveaways at a lower advertised price elsewhere, we'll beat the price by 10% of the difference. That's our best advertised price guarantee.
We are dedicated to making promotional car and truck giveaways affordable. With AnyPromo's selection of budget-friendly vehicle gifts for customization and our lowest advertised price promise, even small businesses can afford to promote their brand with commuter gifts imprinted with their logo or custom design. We believe it's important to stand by our promise to save you the most money on logo imprinted automotive giveaways.
AnyPromo's Customer Service
Check out what our satisfied customers have to say about our custom car and driving related giveaways:
"The staff liked the product very much. They were rewarded for perfect meeting attendance. I plan to purchase more in the future as an incentive to promote safety in the workplace. Very cute as well as an item I believe that individuals will use. The logo is outstanding! tools of the trade! We used this at an auto convention to give to the attendees and what a hit!" - Rile
"These Dual Port Chargers turned out great! We had previously ordered these exact ones through another company and was told they were not able to make our logo any larger. Not only did you guys beat their prices but our logo was double the size! Thank you So much!!!" - Amy
When finding your preferred source of custom promotional car and automotive gifts, customer service matters, which is why our team goes above and beyond to do our best. At AnyPromo, we believe buying automotive promo items with your custom logo should be as easy as possible. Buying promo car chargers, auto tools, or windshield shades for your company or organization should never be a hassle. Our customer support team is ready to help you find the right car promo to go with your branding.
You don't need to navigate our giant selection of bulk and wholesale automotive gifts alone.
Do you need a license plate frame that matches your company or school colors? Give our promotional product consultants a call to find the perfect colored promotional plate frame.
Are you looking for a windshield scraper with durability? Let us know, and we'll get a product specialist to assist you to find the right ice scraper that will last multiple winters.
Doing a promotional giveaway of multi-tools on a budget? Let our customer service agents know how much you're working with, and we'll find a pocketknife or Leatherman at the right price.
Still have questions about getting custom ice scrapers, emergency kits, or tire pressure gauges made with your logo or custom design? Call us at 1 (877) 368-5678 or hit "Live Chat" at the top of the page to get in touch with our friendly experts who can help you find the right promotional car accessory to spread your message.
Winning Promotional Auto Products
We've got over 1,000+ high utility promotional auto items available that are sure to generate impressions every time the tire pressure is questionable, or an emergency flashlight is needed! Delight guests at auto shows, and more, with these hot items they are sure to use.
According to PPAI report findings, 73% of people who used the promotional product they received said they'd continued to use it at least once a week.
On average, 73% of people who use the promotional product they had received stated they used it at least once a week. So make an impression again and again!
Dual Port USB Car Chargers are in high demand so long as cell phone chargers require manual docking. It'll be a while before this consumer behavior changes, but it's coming. In the meantime, cash in on low-cost impressions by enabling something as practical as a car charger to represent reliability when needed most. We all know the feeling of rushing to find a charger when the phone is about die, more than we'd like to admit, but it's true. Reliability, usefulness, low price, and quality custom auto product all wrapped into one dual port USB car charger.
Our custom auto products are durable, practical, and effective promo items. Every eye-catching piece is specially priced with professional imprints that vividly promote your brand long after it's handed out. The high utility value in this sector is priceless. The more the branded item is used by the recipient, the lower the cost per impression. Get real ROI out of your branding event campaigns.
We Would Love To Help You With Your Next Project
Call Us

Tel: 877-368-5678 (Toll Free)
Monday to Friday
6:00am-6:00pm PST

Chat With Us

Chat with one of our Customer Care
Rep online. This service operates:
Monday to Friday
6:00am-5:30pm PST