Promotional Bags & Custom Luggage
40,000+ Positive Reviews
Over 200,000 customers served
99% of the Fortune 500 Use Us
Trending Tote Bags, Drawstring Bags & Accessories
View All >
100% Satisfaction Guarantee
Shop with confidence. Our customer service team can take care of any issue. Learn more about AnyPromo's satisfaction and 110% price guarantee. We not only match, but also beat any competitor's online advertised price for the same promotional item.
Trusted To Grow the World's Biggest Brands
Custom Bags & Custom Luggage
Promotional bags and luggage can make a long-lasting impression on your customers and stakeholders. Whether you are giving away custom lunch bags to employees, a cooler, picnic basket, phone wallet, briefcase, or duffle bag, the person receiving it will use it for years to come. We carry all kinds of promotional bags and luggage at wholesale and budget-friendly prices that you can place your logo or imprint on. A custom lunch box or picnic basket can be a great giveaway and incentive for new customers, especially in the insurance or financial services industries. You might choose to give bag or luggage tags if you are in the travel or tourism industry and would like to keep your company top-of-mind for people who could be your ideal travel customers. Custom fanny packs are a very popular item, especially for companies and brand that are planning to hold outdoor events such as music festivals where people will need to carry personal items while wanting to keep themselves comfortable.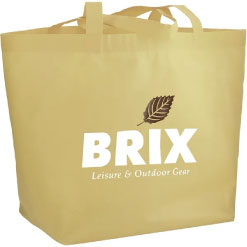 Branded Tote Bags
Custom canvas tote bags are one of the most popular promotional products for people to receive. Promotional bags and totes get your brand front and center with your target audience, and it can offer stylish utility where they can continue to use it over and over again for years to come. Whether you are giving out promotional tote bags, custom reusable bags, or promotional canvas shopping bags, they are sure to be a hit as promotional cotton bags are ranked at the top of people's favorite logo branded item to receive. These are great for carrying items at trade shows or connecting with people as they are shopping in their local grocery or farmer's market.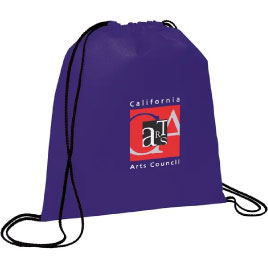 Custom Drawstring Bags
Promotional drawstring bags work great from branding a team, gym, or athletic experience. They are very useful and can be used many times to get your logo seen by countless people. Custom drawstring bags and backpacks can be tailored to your preferred colors, style, and logo. They offer a convenient way for universities, schools, nonprofits, gyms, sports teams, and other organizations to make a lasting impression on their students, patrons, and members. Promotional cinch bags are affordably priced to enable you to order at wholesale and grow your brand seamlessly. Whether you are looking for vinyl drawstring bags, nylon, polyester, or other material – we have a wide selection for you to pick and choose from. You can always contact our customer service to get any help you need in finding the right bag for you.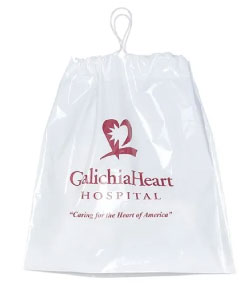 Custom Paper Bags & Custom Plastic Bags
Give your customers a memorable shopping experience so they come back for more with custom promotional plastic bags, jewelry bags, or paper shopping bags. Regardless of what kind of store you have, we have a bag that can feature your logo and brand so your customers can have a complete shopping experience. Custom plastic gift bags help to improve customer loyalty and get your name out any potential customers. Clear vinyl bags are perfect for clothing stores, bookstores, candy stores, or various shops offering unique merchandise. We offer wholesale pricing on all our orders because we know how important it is to get the best deal possible. We have a lowest price guarantee, and if you need any help in ordering or designing your custom vinyl tote bag we are here to help.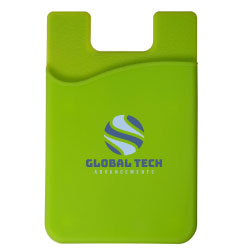 Personalized Wallets
Personalized wallets allow you to stay top-of-mind every time a person is reaching for their wallet or picking up their phone if it's a custom phone wallet. They offer a new opportunity to help guide your audience in making a purchasing decision with you rather than your competitors. When it comes to trade shows, travel agencies, or activity-based services, promotional travel wallets and custom id neck wallets might be the best way to offer a useful promotional product to your audience. We have a wide selection of wallets you can choose from such as custom aluminum wallet, silicone phone wallet, velcro wallet, badge holders, and more.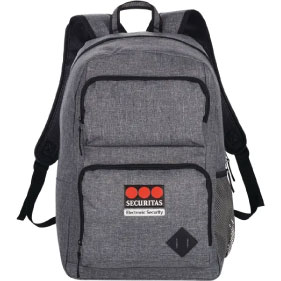 Promotional Backpacks
Promotional backpacks are a powerful way to stay top-of-mind with people and their families who you interact with for your organization and brand. Backpacks and custom sling packs are viewed as a deluxe promotional product by people who receive them. They have a high perceived value and will continue to remind people of you long after you gave it to them. Business promotional backpacks are great to use as an incentive for new and returning customers and to welcome people to your organization to show employee appreciation. The ways you use promotional backpacks are completely up to you, but they are one of the most sought-after promotional products. A quality branded backpack can make a major different in people's perception of your
Custom Bags & Luggage
Custom printed bags are a very popular promotional item because everyone needs to carry things as they attend a conference, trade show, travel for business, work, or for a long-distance vacation. This is true for the average person and for people who matter most to your organization's success. Make sure all those things are carried in a bag printed with your logo.
If you're at a trade show or other event with giveaways, handing out the coolest bag will get you the most impressions. No matter how cool the other giveaways are, attendees will need a bag to put it in. A bag printed with your logo might be one of the most iconic branding devices out there. One of the most important parts of the American clothing and department store shopping experience is walking around the mall with a bag from the trendiest store to shop. When someone walks around with your bag, it's a vote of confidence in your brand.
Whether you're looking for luggage sets with your custom logo or are just trying to find some inexpensive tote bags, AnyPromo has a custom bag to fit your needs. Our selection of TSA-friendly backpacks will allow you to have a giveaway that makes travel a lot easier. These nifty travelling backpacks make it more convenient to get through security checkpoints.
If you want to get as much value and impact as possible out of your promotion, our polypropylene drawstring and tote bags are not only affordable and durable, but also recyclable.
Why do so many businesses trust AnyPromo for personalized bags? AnyPromo is the best source for wholesale custom totes, backpacks, drawstring bags, and more because we stand by our product with a 100-day return policy and guarantee the lowest online advertised price.
Promotional Bags Customization
With promotional bags, you have tons of customization options. Whether you're looking for screen printed tote bags or enjoy feeling the texture of embroidery, you're sure to find the perfect personalized bag to represent your brand.
The 3 most common bag and luggage customization methods are:
Screen printing, which involves applying one or more layers of ink to your custom bag through a custom-made mesh screen of your logo or design.
Full color printing, which involves digitally printing a full color image on your bag with CMYK (cyan, magenta, yellow, black) ink.
Embroidery, which involves stitching a logo or design into your custom bag with computer-controlled embroidery equipment.
Most customers choose screen printing because it works well on fabrics. Screen printed bags are a customer-favorite of trade show exhibitors because it's the go-to method when you want to hand something out to everyone in attendance. No convention is complete without being commemorated with a specially designed bag.
When giving out custom bags, we know how important it is for the imprint to be clear and distinct. We have a 100-day return policy so you can shop with assurance you'll really get a quality logo on your product.
We have a graphic design team at your disposal free of charge so you don't have to be an expert to get a custom screen printed drawstring bag that looks good.
Price Match Guarantee On Different Types of Custom Luggage & More
AnyPromo is the cheapest online source for custom branded bags and luggage, guaranteed. If you find any of these bags customized cheaper anywhere else, we won't just match the advertised price, we'll beat it. Looking for extra rugged bags made with ballistic nylon? We'll price match those. Just want a cheap drawstring? We'll not only print great artwork, but we'll also do it cheaper than anyone else online.
When buying bags wholesale for giveaways, we know how much customers care about getting a competitive deal. That's why if you find the same bags or luggage at a lower advertised price elsewhere, we'll beat the price by 10% of the difference. That's our best advertised price guarantee.
We are dedicated to making promotional bags affordable. With AnyPromo's selection of budget-friendly bags and luggage for customization and our lowest advertised price promise, even small businesses can afford to promote their brand with bags imprinted with their logo or custom design.
Trending in Promotional Bags & More
Check out what our satisfied customers have to say about our custom printed bags:
"Perfect size and the colors look fantastic! The price was great, too. The service was great and my sales representative was fantastic. Great value. Quality product. Logo turned out just as the mock it. Will definitely consider AnyPromo in the future." – Levi
"Nice color and good representation of my logo. Nice job. Dante is great to work with. Bag is very nice and looks better than expected for the price. Good value for promoting my business" - Jane
We know customer service matters when finding your preferred source of custom printed bags. At AnyPromo, we believe buying personalized bags with your custom logo should be as easy as possible. Buying promo totes or backpacks for your company or organization should never be a hassle. Our customer support team is ready to help you find the right bag to go with your branding.
You don't need to navigate our giant selection of bulk and wholesale bags alone.
Do you need a custom drawstring bag to match your company or school colors? Give our promotional product consultants a call to find the perfect colored drawstring backpack.
Are you looking for a company backpack your employees will wear everywhere? Let us know, and we'll get a product specialist to assist you find the ultimate commuter backpack.
Doing a promotional lunch bag giveaway on a budget? Let our customer service agents know how much you're working with, and we'll give you a great deal on PEVA lined cooler bags.
Still have questions about getting custom bags made with your logo or custom design? Call us at 1 (877) 368-5678 or hit "Live Chat" at the top of the page to get in touch with our friendly experts who can help you find the right bag to spread your message.
Winning Promotional Bags & Luggage
Search a wide variety of custom and bags and luggage at AnyPromo. Custom bags are a well-proven promotional gift for trade shows:
50% of U.S. consumers own promotional bags (ASI).
73% of those who used the promotional product that they had received stated that they used it at least once a week (PPAI).
Promote your brand through a custom bag, luggage, or bag accessory at your next tradeshow, and position your product for success! A custom bag can be used in many practical scenarios in everyday life, not to mention for many on-the-go professionals where traveling simply comes with the territory.
Our custom luggage and bags are specially priced with professional imprints to vividly promote your brand. Search our site for a wide selection of personalized items and see for yourself just how high our standards are for creating a brand impact to last for years to come.
Promotional bags, including totes, shopping bags, satchels, drawstring bags, cosmetics, etc. make up the third largest share of promotional industry sales by category. Bags are trending up each year. Ironically, this unique item has winning characteristics; ranking high in consumer usefulness, and appeal. Let's make marketing make cents!
We Would Love To Help You With Your Next Project
Call Us

Tel: 877-368-5678 (Toll Free)
Monday to Friday
6:00am-6:00pm PST

Chat With Us

Chat with one of our Customer Care
Rep online. This service operates:
Monday to Friday
6:00am-5:30pm PST