40,000+ Positive Reviews
Over 200,000 customers served
99% of the Fortune 500 Use Us
Featured Sticky Notes & Office Products
View All >
Trending Folders, Notebooks & Accessories
View All >
100% Satisfaction Guarantee
Shop with confidence. Our customer service team can take care of any issue. Learn more about AnyPromo's satisfaction and 110% price guarantee. We not only match, but also beat any competitor's online advertised price for the same promotional item.
Trusted To Grow the World's Biggest Brands
Office Items
Custom office products are perfect for keeping employees engaged when working remotely or simply to provide a professional brand experience for current and prospective clients. Imprinting your logo or company name on an office stationery set or magnetic calendar could be great for professional services such as finance, insurance, real estate, and even education. You can give away pocket calendars or clocks with your logo to keep your company in top-of-mind with the people who matter most to your business or nonprofit cause. Branded office supplies such as binders, folders, or business card holders can be great ways to create a unified brand experience when people visit your office or if you want to keep team members engaged in your company while they work from a remote home office. A popular office promotional product that brings a lot of fun to the table is the classic shark in wave tabletop decorative piece.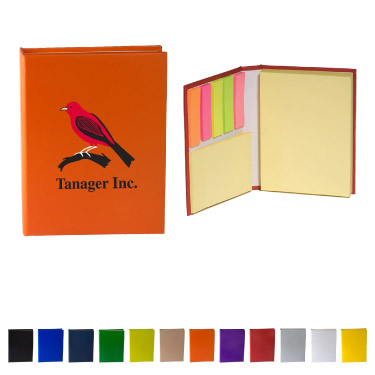 Sticky Notes & Adhesive Notepads
Promotional office products like sticky notes and adhesive notepads are powerful tool remind your customers of your brand for years to come. If you get the larger sticky notes they can last years and remind your potential customer every day they are at their desk! They are handy and present your brand as a helpful partner with them, making you stand out from your competition. We also carry promotional magnetic sticky notes so you can be a reminder for your customer when they go to the fridge at home or while at the office break area. Whether you provide a product or service to people, families or companies, we have a sticky note or promotional notepad cube for you to create more memorable with people who matter the most.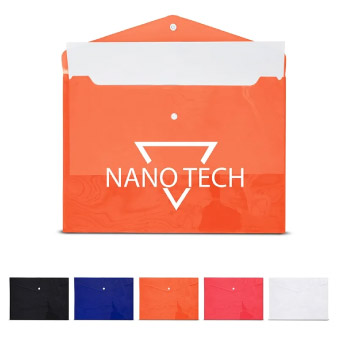 Binders & Folders
Custom binders and folders are a great promotional method to get you in the minds of your potential customers. This is especially true for financial planners and insurance professionals who need to present their firms in a positive light with their potential customers and stay top of mind. Whenever a client needs to look through their important documents, they will be reminded of the quality of your service with custom promotional folders you provide them and branded envelopes and storing material for their papers. You can set yourself apart as a valuable professional they can rely on with quality branded tools such as binders and folders.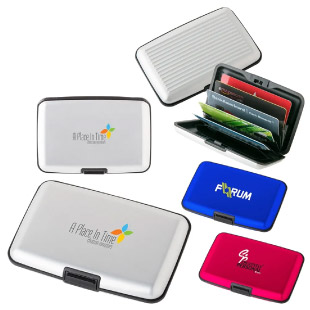 Business Card Holders
Custom business card holders are also a great way to make your company or service stand out among the crowd. How many times have you see a stack of business cards laying disorganized on a counter or leaning on the side of shelf and wall? A professional business card holder goes a long way in making a positive statement about your company or service. It provides a quality way for people to engage with your brand even when it's not in person. Personalized business card holders are also great to show employee appreciation and improve engagement among employees who are working remotely while interacting with customers in person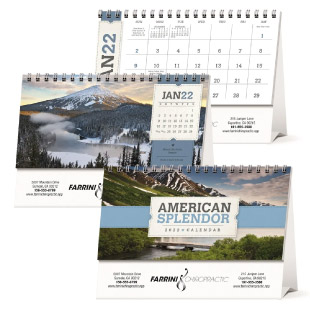 Desk Calendars
Personalized or custom desk calendars can be great promotional products when you are trying to market your business or service to other businesses or people who work from home. These custom desk calendars and pads can be perfect for helping to keep employees engaged when your own team is working remotely. We also carry a wide selection of custom stick on calendars, desk pad calendars, large desk calendars, and custom flip calendars. With AnyPromo, you can find exactly what you are looking for at the lowest price in the industry. We provide a 110% price match guarantee to any competing online product.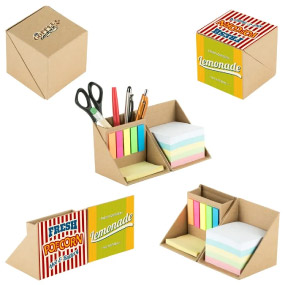 Desk Accessories
Promotional desk accessories such as branded piggy banks, custom pen cups, and custom cigar cutters aren't just for desks! While they are fun promotional items to give to a client or stakeholder who matters a lot to your company, you can also use these products as engaging giveaway items at your next event. A branded piggy bank that has your name and company logo on it can be given away at networking events to share your contact information while providing a very powerful message that you will help them save money and be a smart contact for their financial health.
Promotional Office Items
The best way to promote businesses is with promotional office products that get used throughout the business day. There is nothing more relevant to businesses than tools of the trade.
No matter what your industry is, if you work at a desk, you need office supplies. If you're in an office right now, you'll see all the standard desk accessories: pens, staplers, coffee mugs, sticky note pads. Imagine if all those office products had your company logo!
Whether you're looking for an engraved commemorative award or are trying to find discounted office supplies with your company logo, AnyPromo has a customized desk item to fit your needs.
If you're looking for an executive gift, take a look at our premium desk clocks. These artisan timepieces make great awards for top performers.
Everyone in an office needs reminders from time to time. Take a look at the great deals we have on wholesale sticky note pads with your company branding.
Why do so many businesses trust AnyPromo for personalized office supplies? AnyPromo is the best source for wholesale custom workplace promo items because not only do we stand by our products with a 100-day return policy, we guarantee the lowest online price.
Generate Impressions with Promotional Office Items
With promotional office products, you have tons of customization options. Whether you're looking for screen printed rulers or laser engraved staplers, you're sure to find the perfect personalized office giveaway to represent your brand.
The 2 most common office accessory customization methods are:
Screen printing, which involves applying one or more layers of ink to your custom office promo through a custom-made mesh screen of your logo or design.
Full color printing, which involves digitally printing a full color image on your desk item with CMYK (cyan, magenta, yellow, black) ink.
Most customers choose screen printing because it prints reliably on a wide variety of materials. Screen printed binders and pens are a customer-favorite of all industries because having company branded office supplies boosts brand identity. That's why no world-class company is complete without being outfitted with self-branded office supplies.
When giving out custom office giveaways and desk items, we know how important it is for the imprint to be clear and distinct. We have a 100-day return policy so that you can shop with assurance you'll really get a quality logo on your product.
We also have a graphic design team at your disposal free of charge so that you don't have to be an expert to get a custom printed notepads that looks good.
All Types of Promotional Office Items
AnyPromo is the cheapest online source for custom branded office supplies, guaranteed. If you find any of these office accessories customized cheaper anywhere else, we won't just match the price, we'll beat it.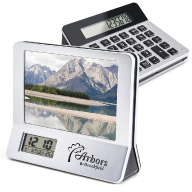 Looking for a desk item with a distinguished look that will work great as an award for excellence? Take a look at our personalizable executive desk clocks.
Just trying to draw straight lines in the office? Our budget friendly printed wooden rulers are a customer favorite for schools and businesses alike.
When buying self-branded promotional products for the office wholesale, we know how much our customers care about getting a good deal. That's why if you find the same sticky notes, paperweights, or calendars at a lower price elsewhere, we'll beat the price by 10% of the difference. That's our best price guarantee.
We are dedicated to making promotional desk items affordable. With AnyPromo's selection of budget-friendly calendars, picture frames, and more, for customization and our lowest price promise, even small businesses can afford to promote their brand with desk accessories imprinted with their logo or custom design.
Trending Promotional Office & Desk Accessories
Check out what our satisfied customers have to say about our custom office giveaways:
"These folders are very nice quality - sturdy enough to hold our 5 brochures, Annual Report and stat sheets. We are using them as press packets - and the price is much lower than going to a printer." - Kathleen
"Better than expected. The red color is perfect, the folder is strong. And I love that they were able to convert my logo from red to white so it would look good on the folder. Best order ever!" - Vickie
When finding your preferred source of custom folders, calculators, or sticky note pads, we know that customer service matters.
At AnyPromo, we believe buying desk swag with your custom logo should be as easy as possible. Buying promo folders or calculators for your company or organization should never be a hassle. Our customer support team is ready to help you find the right office product to go with your branding.
You don't need to navigate our giant selection of bulk and wholesale desk swag alone.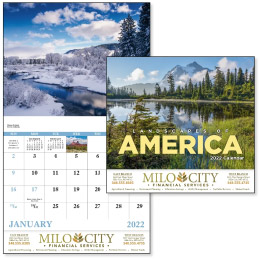 Do you need a calendar that matches your company or school colors? Give our promotional product consultants a call to find the perfect colored calendar for your brand.
Are you looking for a letter opener with your logo? Let us know, and we'll get a product specialist to assist you find the right promotional mail opener.
Trying to get promotional sticky notes on a budget? Let our customer service agents know how much you're working with, and we'll find sticky pads at the right price.
Still have questions about getting custom office items made with your logo or custom design? Call us at 1 (877) 368-5678 or hit "Live Chat" at the top of the page to get in touch with our friendly experts who can help you find the right office promo to spread your message.
Winning Promotional Office Products
Still not sold on promotional office products?
41% of U.S. consumers own promotional Desk/Office accessories (ASI).
61% of desk accessories are kept at the workplace (ASI).
Consumers who own a promotional desk accessory report they typically will keep it for about 14 months (ASI).
Branded messages are best delivered on custom items people are proud to use. Research shows that U.S. consumers want durable and attractive products that can be used on a daily basis. With nearly 2,500 promotional office products available in different styles, shapes, and sizes, you're sure to find the right custom item to generate impressions while creating a unique brand experience.
Considering all the time that many on-the-go professionals spend in the office, or personal workspace, a little flare livens up the environment and inspires productivity. Adding your brand to a high-utility promotional office item positions your brand for maximum exposure!
Whether at a trade show, or special event, our stance on making a BIG brand impact is intense. We live for the thrill of aligning America's top marketing event planners with the right tools to achieve their brand goals! Search a diverse selection of promotional office products to find proven swag that generates low-cost impressions directly correlated with eye-catching appeal and durable manufacturing.
Let's make marketing make cents! Simplify the process of finding the right promotional products, and achieve your brand visibility goals. Find attractive and durable promotional office products on sale now.
We Would Love To Help You With Your Next Project
Call Us

Tel: 877-368-5678 (Toll Free)
Monday to Friday
6:00am-6:00pm PST

Chat With Us

Chat with one of our Customer Care
Rep online. This service operates:
Monday to Friday
6:00am-5:30pm PST