Promotional Pens & Writing
40,000+ Positive Reviews
Over 200,000 customers served
99% of the Fortune 500 Use Us
Best Selling Custom Pens & Writing Tools
View All >
100% Satisfaction Guarantee
Shop with confidence. Our customer service team can take care of any issue. Learn more about AnyPromo's satisfaction and 110% price guarantee. We not only match, but also beat any competitor's online advertised price for the same promotional item.
Trusted To Grow the World's Biggest Brands
Pens & Writing Utensils
Promotional pens and pencils are great for helping to make more people aware of your service, cause or organization. Custom writing utensils add to the brand experience your customers will be influenced by when deciding to work with you. They are also great reminders of your business. We offer many kinds of writing utensils so you can use it to promote your school, medical practice, nonprofit, hotel, or local business. We eve offer custom pencil cases and accessories, mini sharpies, custom erasers along with personalized pens in bulk. Having pens with your logo and information about your organization helps to add another level of familiarity with your brand. Pens and pencils can be used to send a message to your customer. We carry pens and pencils that are sustainably created so they are more environmentally friendly than other items, which can give you the opportunity to stand out as a socially conscious company. We carry promotional pens made right in here the USA.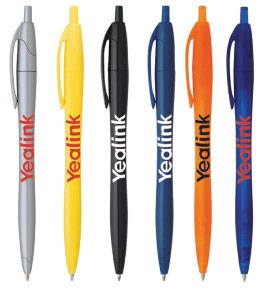 Pens
Promotional pens are one of the most versatile ways to promote your brand and make an impression. Quality custom ink pens can give the person receiving them that you are a quality person, organization, or business they should be engaging with. AnyPromo offers a giant selection of promotional pens, from high end conformable pens to budget friendly professional pens. We offer a lowest price guarantee on all our pens, so if you find a lower price anywhere else, we will beat it! Custom BIC or personalized gel pens are great for non-profits, schools, and community organizations that want to make their presence known to the people they serve. No matter what your business or organization focuses on, promotional pens are so convenient that you can use them in almost any setting to leave a lasting impression. We have custom twist pens, mop topper pens in bulk, and personalized pens made in the USA.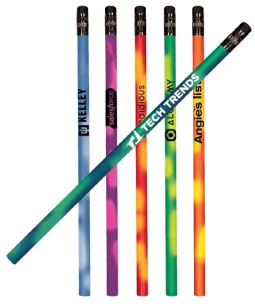 Pencils
Custom and personalized lead pencils are great promotional products for schools, nonprofits, contractors and more! They are extremely convenient to use and offer a way to reconnect with your customers or people who matter most to your organization. We offer wholesale custom pencils at with a lowest price guarantee so you can save big on your promotional marketing budget. If you need just a small amount, we also offer certain custom pencils with low quantity orders. While our mini colored pencils are great for schools, our custom carpenter pencils can be used for various trades including carpentry, and our custom golf pencils with erasers are perfect for promoting your organization with golfers to be a giveaway at a golfing fundraiser. We have custom twist pens, promotional recycled pencils, and personalized pencils made in the USA.

Stylus
If you want to level up your promotional marketing from just pens and pencils, you can try our promotional touch screen pens that give added functionality for use on their touchscreen tablets and devices. Custom stylus pens with logo are perfect for reminding people of your brand and services while they are browsing the internet or have access to their computers. If you operate online, personalized touch screen pens could be the perfect promotional product for you to add to your set of marketing tools. Custom stylus pens with logo get repeated use since they become a long-term tool for people who regularly use tablets and touchscreens. Many laptops can now double as a tablet for when people are in meetings or for drawing. This makes custom pens with stylus tip a very versatile promotional marketing item for any brand.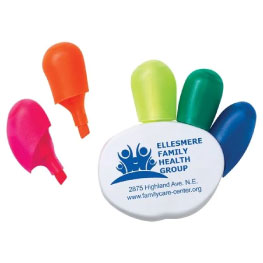 Highlighters & Markers
Highlighting your brand has never been easier for schools, family oriented businesses, or professionals who provide special attention to their customers and stakeholders. Custom markers, highlighters and sharpies are perfect for making a meaningful connection with your audience. The bold strong writing of a custom marker stands out compared to the typical blank pens people may receive. We make it easy to maximize your budget with custom highlighters and markers with low minimum order amounts. You can order mini sharpies in bulk to give out to people. Let us know if you need help with your higher or marker order and we will assist you every step of the way.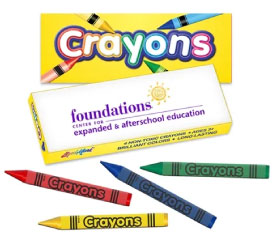 Crayons
Custom crayons are a very meaningful promotional product. When you provide branded crayons you are connecting with an entire family. Promo- tional and personalized crayons are great for schools, restaurants, nonprofits, charities and medical centers to connect with their visitors. Promotional crayons are convenient and can be stored safely for a long time as you give them out to the people who matter most to your business or organization. We offer promotional crayons at wholesale pricing so you can conveniently order in bulk while saving on your budget and maximizing your marketing efforts. We are here to help you every step of the way, so if you have any questions or need help with your design then one of our AnyPromo customer service representatives is here to help you on a call, email, or chat box.
Custom Promotional Pens
Don't underestimate the power of a promotional pen. It's not just simply a giveaway, it's a statement about your brand.
When someone "borrows" a pen from your waiting room, make sure it's a really awesome pen with your branding on it. If it's the best pen in their car or purse, they'll know you're a top notch company.
It's not expensive to have a really cool pen with your logo or custom branding. You can have a great pen to write with for under 50¢, and possibly the best pen someone owns for under $1.00.
Spend some time browsing our selection of over 5,600 different customizable pens. You'll not only find a great pen to represent your brand, you'll find pens that you personally want to have yourself.
Whether you're looking for a pen that has extra features like a highlighter, or are just looking for a pen that writes well every time, AnyPromo has a custom printed writing utensil to fit your needs.
Find budget-friendly dart pens with patented hybrid ink. Hybrid ink merges the reliability of premium ball-points with the dense, solid writing of a gel pen.
Get everyone cool multi-function pens with a flashlight, stylus, laser, and more. That's right, you can have a hybrid ink pen with a laser.
Why do so many businesses trust AnyPromo for personalized pens, pencils, and highlighters? AnyPromo is the best source for wholesale custom pens of all types because not only do we stand by our product with a 100-day return policy, we guarantee the lowest online price.
Promotional Writing Utensils
With promotional pens and writing utensils, you have tons of customization options. Whether you're looking for full-wrap printed pencils or laser engraved fine point pens, you're sure to find the perfect personalized pen to represent your brand.
The 2 most common pen and writing instrument customization methods are:
Screen printing, which involves applying one or more layers of ink to your custom pen or pencil through a custom-made mesh screen of your logo or design.
Laser engraving, in which a computer-controlled laser etches an engraving of your design or logo onto your custom writing instrument.
Most customers choose screen printing because it makes consistent one-color prints on pretty much any material. Screen printed pens and pencils are a customer-favorite of businesses of all sizes because everyone needs to write. That's why no office is complete without being furnished with company branded pens.
When giving out custom writing instruments like ballpoint pens, gel pens, and multi-function pens, we know how important it is for the imprint to be clear and distinct. We have a 100-day return policy so that you can shop with assurance that you'll really get a quality product that represents your brand and logo in the best light. We also have a graphic design team at your disposal free of charge so that you don't have to be an expert to get a custom printed or engraved pen that looks good.
Writing Accessories Make Great Giveaways
AnyPromo is the cheapest online source for custom branded pens, guaranteed. If you find any of these click pens, multi-function pens, or any other writing instrument customized cheaper anywhere else, we won't just match the price, we'll beat it.
Laser engraved brass-core pens that make great executive gifts or recognition awards.
Stylus pens are a budget-friendly tech giveaway and a crowd favorite.
When buying personalised pens wholesale for giveaways, we know how much our customers care about getting a worthwhile deal. That's why if you find the same custom pens at a lower price elsewhere, we'll beat the price by 10%. That's our best price guarantee.
We are dedicated to making promotional pens affordable. With AnyPromo's selection of budget-friendly ballpoint pens, click pens, and gel pens for customization, and our lowest price promise, even small businesses can afford to promote their brand with pens imprinted with their logo or custom design.
All Sorts of Writing Accessories
Check out what our satisfied customers have to say about our custom printed and engraved pens: "Great pen and great value! I will definitely use AnyPromo in the future to order promotional products for all of our businesses. They were prompt in getting a proof of my artwork to me and always notified me once the order was ready to ship!" - Rebecca (Promotional Cougar Dart Pen)
"Our logo was clear and what we approved, the grip was comfortable and the pen wrote very well. We were also impressed on the quick turn around time with both the logo approval and actually receiving the pens. Good job AnyPromo, we appreciated the great customer service !" - Kevin (Satin Curvy Ballpoint Click Pen)
When finding your preferred source of custom branded pens, we know that customer service matters.
At AnyPromo, we believe buying pens with your custom logo should be as easy as possible. Buying promo pens for your company or organization should never be a hassle. Our customer support team is ready to help you find the right pen, pencil, or other writing instrument to go with your branding.
You don't need to navigate our giant selection of bulk and wholesale pens and pencils alone.
Do you need a stylus pen that matches your company or school colors? Give our promotional product consul- tants a call to find the perfect colored pen with a stylus.
Are you looking for a multi-function pen with a highlighter? Let us know, and we'll get a product specialist to assist you find the right highlighter pen.
Trying to get promotional markers on a budget? Let our customer service agents know how much you're working with, and we'll find custom imprinted markers at the right price.
Still have questions about getting custom writing products made with your logo or custom design? Call us at 1 (877) 368-5678 or hit "Live Chat" at the top of the page to get in touch with our friendly experts who can help you find the perfect ballpoint pen, multi-color pen, or other personalized writing instrument to spread your message.
Writing Accessories Make Great Giveaways
Look through our selection of custom writing instruments.
AnyPromo has a large selection of promotional pens and pencils. We have ballpoint pens, dart pens, stylus pens, wooden twig pens, #2 lead pencils, mood pencils, carpenter pencils, gel pens, and so much more! We all use writing items every day, so give your consumers an essential that they need.
We have nearly 6000 promotional pens, pencils, erasers, highlighters, crayons, and more! With so many promo- tional writing utensils in our selection, you'll be able to find the perfect one to show your logo off to potential customers and stakeholders.
Writing products are great for any event! Consumers are bound to use writing items at an event, office, or home. Give them the writing item they need to take notes and to remember what you offer. You can't miss out on an everyday item. Promotional writing items are great for any customer to have. We have different styles to represent your company!
Just like our customers, AnyPromo sets the bar high when it comes to making a big brand impact, while getting the best bang for your buck! Click through our inventory of promotional writing accessories to find what best fits your goals.
Promotional writing items are great for students and working professionals. Use promotional writing items as giveaways for college fairs, club fairs, or company incentives, and more! With writing items, you can practically give them away at any event!
These event freebies will be in high demand instead of winding up in the trash. Save money and make a BIG hit at events with our specially priced writing sets, styluses, and more. Great for jotting notes, writing prescriptions, and grading exams, these gifts excite people who write! Check out hot writing accessories on sale now at AnyPromo.
We Would Love To Help You With Your Next Project
Call Us

Tel: 877-368-5678 (Toll Free)
Monday to Friday
6:00am-6:00pm PST

Chat With Us

Chat with one of our Customer Care
Rep online. This service operates:
Monday to Friday
6:00am-5:30pm PST