Promotional Stationery & Notebooks
40,000+ Positive Reviews
Over 200,000 customers served
99% of the Fortune 500 Use Us
Trending Padfolios, Stationery & Journals
View All >
Shop Stationery & Notebooks by Material
View All >
100% Satisfaction Guarantee
Shop with confidence. Our customer service team can take care of any issue. Learn more about AnyPromo's satisfaction and 110% price guarantee. We not only match, but also beat any competitor's online advertised price for the same promotional item.
Trusted To Grow the World's Biggest Brands
Stationery & Notebooks
Promotional stationery can take your brand to higher level in the minds of your customers and employees. They can be a useful too for nearly any kind of business, from a contractor who need to write up quotes on writing pads to tax accountant who can enter a meeting with a professional leather padfolio with logo. Custom promotional notebooks are also great for employees or team members who can feel more connected to the organization and use the promotional stationery when they interact with clients or stakeholders of the organization. Notebooks with pens can be a very versatile giveaway item for multiple industries, especially education. You might choose to go with vintage style notebooks or journals with a modern design depending on your brand and industry. Regardless of which type of stationery or notebook you choose; you will be receiving the best pricing and customer service in the industry. We have a large selection of stationery items ranging from journals, notebooks, padfolios, planners, accessories, portfolios, and books to help you accomplish your marketing and branding goals.
Find the Right Stationery for Your Brand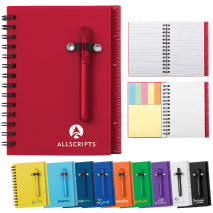 Notebooks & Notepads
Notebooks and notepads are well-tested and reliable promotional products. Despite the ubiquity of organizational software, notebooks remain popular. They are products that people will frequently use to remember important information, get creative thoughts flowing, and jot down quick notes for later.
You can choose from a wide variety of notebook types and designs based on your budget and the brand image you are looking to embody.
We at AnyPromo provide custom spiral notebooks, notepads, recycled paper notebooks with pen and more. Small notebooks can be helpful to give out at events, giving participants an easy way to remember information that they can take with them. You can also choose from options like basic notebooks, notebooks with pens, and eco-friendly notebooks.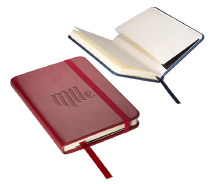 Journals
Journals can be great promotional products for any industry. Many people use journals to write and reflect or take notes and keep track of important information. Recipients are likely to use your promotional journals frequently over a long time, helping them to see and remember your brand name, logo, and information.
There are several types of journals you can choose from, depending on your budget and design. Faux leath- er-covered journals are a popular choice for their durability and polished look. They can also be printed in a wide variety of colors to match your design. There are also many other types to choose from, like recycled paper journals or spiral notebooks.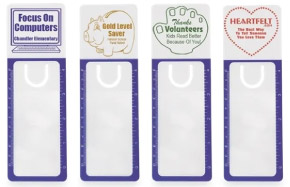 Books & Accessories
Books and accessories can be great promotional products for education, healthcare, and various other industries. Even in this day and age, when ebooks are prevalent, many people still prefer to read paper books, both for business and pleasure. People are always looking for bookmarks, so they are likely to use any promotional bookmarks they receive. This will be an excellent way for them to remember your brand and information whenever they open their book.
If you're looking for a product that stands out, you can find specialty items like bookmarks with magnifiers, ruler bookmarks, or customized wood bookmarks, and promotional book lights. You can also print promotional books for your company, like a book to keep passwords organized or one to track nutrition or other health information.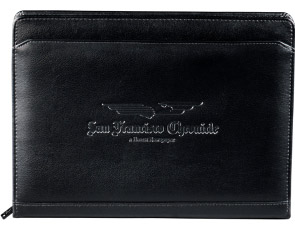 Portfolios
Portfolios are popular office supplies for holding documents, presenta- tion materials, and even electronic devices. If you're looking for a useful gift for education or office settings, a portfolio can be a great option. We have a number of portfolio types and styles to fit different compa- nies and budgets. Options range from basic leatherette portfolios to deluxe portfolios for power banks, mobile phones, and tablets.
A portfolio offers an ideal space for subtle but effective branding. You can print your brand name, logo, or custom design onto the portfolio's cover in color, imprint it by debossing, or include brand designs and information inside.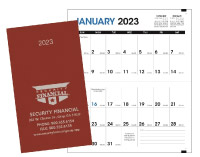 Planners
In our fast-paced world, many people have busy schedules and lots of ideas and information to keep organized in their daily lives. Help your employees and customers out with personalized planners that will allow them to schedule their lives while also showcasing your branding and essential information.
Depending on your budget and recipients, you can choose from several planner options like weekly memos, weekly pocket planners, and classic monthly planners. Planners can be great promotional gifts for academic institutions or office settings where people are likely to use them. You can even buy specialty planners like meal planners, academic planners, and coloring book planners to fit your company and industry.
Imprinted Stationary, Notebooks, Padfolios, Portfolios & More
Take a sneak peek at our stock of promotional stationery and notebooks currently available. Feel free to give us a call, and we'll help expedite your order!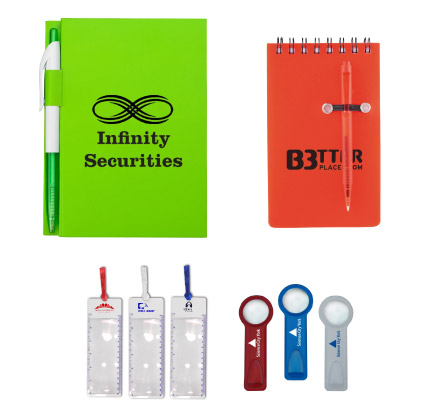 Pedova 7X10 Wire Bound Journalbook
Plush Bookmarks - Black Bear
4 Color Process ECO Notebook - 6" x 9"
Alternative® Leather Refillable Journal
Euro Soft Cover Journal-6.75" x 9.5"
Bookmark- 2 1/8" X 8" Rectangle Top
Bamboo Notebook and Pen
eFusion Padfolio
Recycled Notebook
And much more
Customized Notebooks Make Long Lasting Gifts
Our custom stationery and notebooks are quality-crafted and durable. Each eye-catching portfolio, journal, and notebook is specially priced and professionally imprinted to vividly promote your brand long after they are handed out.
Choose from our huge selection of promotional stationery and notebooks. Check out these custom stationery and notebooks on sale now!
We Would Love To Help You With Your Next Project
Call Us

Tel: 877-368-5678 (Toll Free)
Monday to Friday
6:00am-6:00pm PST

Chat With Us

Chat with one of our Customer Care
Rep online. This service operates:
Monday to Friday
6:00am-5:30pm PST