Stickers & Decals:
164 items total
40,000+ Positive Reviews
Over 200,000 customers served
99% of the Fortune 500 Use Us
100% Satisfaction Guarantee
Shop with confidence. Our customer service team can take care of any issue. Learn more about AnyPromo's satisfaction and 110% price guarantee. We not only match, but also beat any competitor's online advertised price for the same promotional item.
Trusted To Grow the World's Biggest Brands
Stickers & Decals
Stickers and decals are convenient ways to promote your brand with fans, customers, and teammates. You can customize a multipurpose decal so you can promote your brand on vehicles, folders, or any surface where a person would want to place a sticker. Custom sticks provide a memorable way for people to engage with your organization since they will be placing the branded sticker or decal as part of decorating their property for fun. We offer plenty of options for fun, entertaining, and friendly sticker to share with the people who matter most. Our most popular stickers are of police badges such as custom junior police badges and wood decals. You can order and customize your own police badge sticker to showcase your city for both police and sheriffs' depart- ments. We carry classic and even wood stickers to give you more options in promoting your company. Floor decals are also a popular solution for many businesses looking to help direct their customers in a friendly and convenient way. If you need any help finding the right sticker or decal for your goal, just let us know and we can help guide you.
Find the Right Stickers for Your Brand
Custom stickers can also be a great way to add creative flair to your product packaging. Packaging can have a significant impact on whether customers buy a product, so why not leverage the appeal of stickers to make your products pop on shelves? Stickers can help your product stand out, making an impression on customers to encourage engagement and further sales.
Consider giving out temporary tattoos at events or in giveaways, especially with a message or photo setup that encourages customers and brand ambassadors to show their temporary tattoos on social media. This can help you harness the power of innovation and trends to reach an even broader audience.
Unlike some promotional items with material restrictions, you can use a wide variety of materials for your custom roll label. For example, you may want to use clear labels, pre-colored labels, removable or permanent adhesive labels, metallic labels, high-gloss labels, or simple paper labels, to name just a few.
Retail stores, banking halls, or other corporate spaces can use floor decals to inform customers about specials or new products or services while they wait in line at customer service or the checkout. They are a great way of get- ting your brand message across to people conveniently and affordably.
Using custom multi-use decals on your business vehicles has the additional advantage of showing your brand to more people. Promotional multi-use decals are excellent ways of informing potential customers about sales and limited-time deals, holidays discounts, in-store promotions, and other exciting aspects of your brand.
Imprinted Static Cling Circles, Junior Police Badge Stickers & More
Take a sneak peek at our stock of promotional stickers and decals currently available. Feel free to give us a call, and we'll help expedite your order!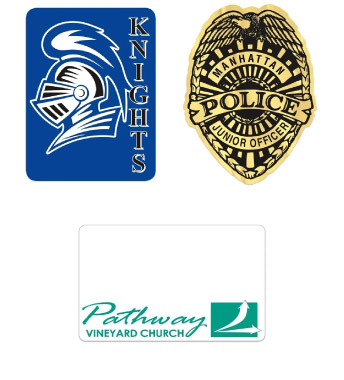 Fun Sticker Roll - Bully-Free Zone.
Window Shade Decals.
White Ultra Decal — 6-11 Sq. In. Rectangle.
Fun Sticker Roll - I Voted.
Prismatic Decal.
Junior Police Badge Stickers.
Waterless Tattoos.
4" X 4 1/2" Rectangle Repositionable Stickers.
And much more
Choose the right promotional sticker or decal to grow your brand!
Customized Decals Make Long-Lasting Impressions
Our custom stickers and decals are quality-crafted and durable. Each eye-catching piece is specially priced and professionally imprinted to vividly promote your brand long after they are handed out. Choose from our huge selection of promotional stickers and decals to find the ones that work best for you.
Check out these custom stickers and decals on sale now!
We Would Love To Help You With Your Next Project
Call Us

Tel: 877-368-5678 (Toll Free)
Monday to Friday
6:00am-6:00pm PST

Chat With Us

Chat with one of our Customer Care
Rep online. This service operates:
Monday to Friday
6:00am-5:30pm PST