Promotional Watches & Jewelry
40,000+ Positive Reviews
Over 200,000 customers served
99% of the Fortune 500 Use Us
Trending Bracelets, Lapel Pins & Necklaces
View All >
100% Satisfaction Guarantee
Shop with confidence. Our customer service team can take care of any issue. Learn more about AnyPromo's satisfaction and 110% price guarantee. We not only match, but also beat any competitor's online advertised price for the same promotional item.
Trusted To Grow the World's Biggest Brands
Watches & Jewelry
Promotional watches, bands, and jewelry items can be used to bring awareness to a cause, boost excitement at an event, or be used to show special appreciation to your customers and team.
Custom wrist bands are great for events and nonprofit causes that want to identify and acknowledge their supporters. We have custom party bracelets available, leather watch straps, jewelry boxes and accessories, lapel pins, and necklaces so you can find the right promotional item for your marketing campaign, event, or cause. If you are planning to get promotional products for a party or event, then we encourage you to check out our light up and glow in the dark necklace selection to add even more fun.
These kinds of promotional products are great for industry events where you need to entertain and wow your potential and current customers. We have bulk ordering options available where you can save more with wholesale pricing. We are committed to being the most affordable source of promotional watches, jewelry, wrist bands, and necklaces in the industry.
Find the Right Watches & Jewelry for Your Brand
Custom promotional bracelets and awareness wristbands are fun promotional items that people are always happy to receive. Bracelets are easily visible, making them attractive and exciting tools to boost brand awareness. Bracelets can also help you reach a wider audience, as people wearing them will help show your brand to new potential customers.
Have fun with design when purchasing custom promotional bracelets. The more colorful and creative the bracelets are, the more likely customers will wear them and show off your hard work to others. They can also be conversation starters, helping you spread brand awareness by word of mouth.
Promotional bracelets are easy to customize with your brand's name, logo, and catchy slogan. Custom bracelets provide a fun way to break the ice and start a positive business relationship with clients.
Think of lapel pins as walking signage and billboards (at a much lower price!). As more people wear them, they can show off your brand's popularity, helping you to gain more popularity and reach new audiences. You can have them designed in different shapes, sizes, and colors to reflect your brand's identity.
Another benefit of using necklaces for promotional purposes is that they allow for a great deal of customization. You can get creative with your necklace designs, creating a stylish look that perfectly represents your brand.
Custom wrist watches last for years, allowing recipients to remember your brand frequently over an extended period of time. Custom watches are great gifts for holidays, giveaways, shopping mall promotions, or employee and customer appreciation gifts. As tokens of appreciation, they foster brand loyalty among your customers or clients.
Custom jewelry accessories make great customer and employee appreciation gifts, usually cherished and ap- preciated. You can also choose different types of jewelry and different materials based on your budget and brand goals.
All Different Types of Branded Watches & Jewelry
Here is a snapshot of our selection of promo jewelry and watch products currently available. We are ready to help expedite your order of branded watches or jewelry, so give us a call!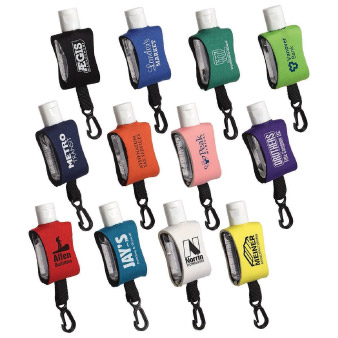 Solar Ice
Awareness Bracelet
Awareness Watch
Hip to Be Square Watch
8" Lighted Bangle Bracelet
24" Light Up Pendant Necklaces
Ribbon Tagnet - Leukemia Support orange
Heart Tagnet - Awareness white
2 1/4" Fusion Badge
And many more
Promote Awareness With Custom Bracelets & Watches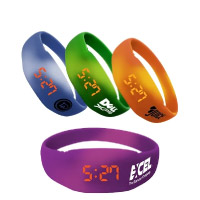 Our custom watches and jewelry are specially priced and help promote punctuality and class without blurring the image of the brand. Search our site for a great selection of wrist wear, timepieces, and custom trinkets, and see for yourself just how high AnyPromo standards are when it comes to brand impact.
We Would Love To Help You With Your Next Project
Call Us

Tel: 877-368-5678 (Toll Free)
Monday to Friday
6:00am-6:00pm PST

Chat With Us

Chat with one of our Customer Care
Rep online. This service operates:
Monday to Friday
6:00am-5:30pm PST