Custom & Promotional Keychains & Keytags
Promote your brand with personalized keychains from AnyPromo! Our custom keychains, logo keychains, and engraved keychains offer daily visibility, keeping your brand at the forefront. Choose from a variety of styles like fidget keychains, houseshaped keychains and round keychains. Maximize your impact with branded keyrings, promotional key rings, and custom keychains with logo. Explore unique options, floating keychains & saddle key tags for added distinction. Boost your brand presence!
Keychains & Keytags:
1 item total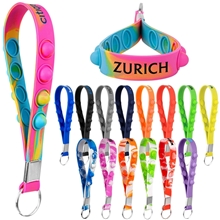 Relieve stress while promoting your brand with this playful fidget keychain. We're blending two great ideas into one with this silicone ...