Promotional Cannabis Grinder
Cannabis Grinder:
10 items total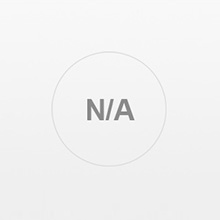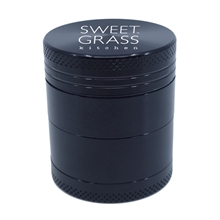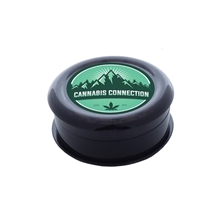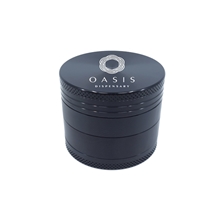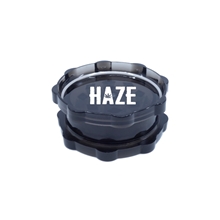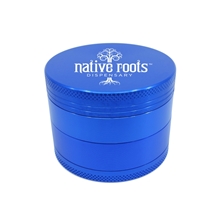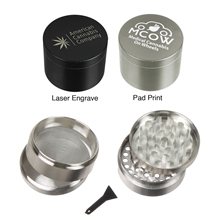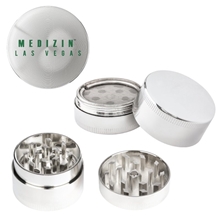 Types Of Weed Grinders
Check out our custom printed plastic grinders for a budget-friendly cannabis promo product that's extremely useful.
Plastic grinders make a great budget-friendly giveaway for dispensaries, collectives, and recreational marijuana shops. That's why plastic 2-piece grinders are such a popular giveaway for first-time patients. Promotional grinders let your customers conveniently start enjoying their weed right away, from either a bowl or a blunt, without getting their fingers all sticky.
With AnyPromo, you can also get a custom imprint on your promotional plastic grinders. Having your giveaway grinders branded with your logo means that your customers will remember where they got their weed (and the grinder) from. In addition to reminding customers about your business, printing your logo on giveaways builds affinity with repeat customers as they become more familiar with your brand.
Looking for something a step up from plastic grinders? Check out our heavy-duty metal grinders that come in sizes up to 63 MM for grinding a lot of weed at once.
Our premium metal grinders are made from either zinc or aluminum. Metal grinders are not only more durable but last a lot longer with their metal teeth. Our larger zinc and aluminum grinders are also easier to use because of their extra weight and pivoting magnetic center.
Metal four-piece grinders also feature a kief catching tray at the bottom. Cannabis connoisseurs consider this an essential accessory because it allows kief and trichomes to be filtered down to an accessible tray. This collected kief or "pollen" is considered valuable to marijuana enthusiasts because it is more concentrated than normal ground cannabis flower and can even be used for edibles.
Why Are Marijuana Grinders So Great?
Marijuana smokers love getting a grinder with their weed purchase because a grinder allows them to start using the marijuana right away. Oftentimes, they can't wait until they get home to smoke a joint and will use the included grinder to roll a marijuana cigarette as soon as they can get to a flat surface.
When marijuana users smoke or vape cannabis "flower", they do not like smoking whole, unbroken buds. Savvy cannabis smokers break the weed up with a grinder so that more surface area is available. This allows the flame to more evenly and efficiently heat up the marijuana for a richer, smoother smoking or vaping experience.
Using a grinder on cannabis buds also enables the smoker to "cherry" another hit. When weed in a pipe or bowl is well-ground, it stays lit more easily. This means that the smoker is left with a lit "cherry" that they can keep smoking from without having to use a lighter.
Metal four-piece grinders also have an extra kief catching tray on the bottom. These premium grinders have a screen at the bottom of the main chamber so that it can filter the tiny sticky crystals that cover high-quality cannabis through to the bottom tray. With a grinder equipped with a bottom catch, you can enjoy the concentrated kief instead of having it just stick to your fingers.