Promotional Garment Bags
Garment Bags:
2 items total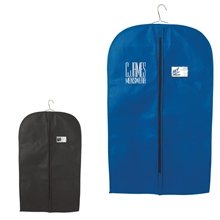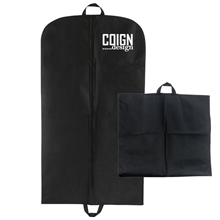 Wholesale Custom Printed Garment Bags
Do you want your brand to be associated with professionalism and looking one's best? Giving your audience promotional garment bags with your branding is a great way to be a part of big days like interviews and weddings.
Branded garment bags are a popular giveaway for department stores and fashion brands. Whether you are a merchant of fine apparel or a boutique dry cleaner, your customers trust you to help them look dapper.
If a suit or dress needs to be ready-to-go, garment bags are a great asset. Throwing a suit jacket on a hanger and leaving it in a closet still leaves it vulnerable to dust, wrinkles and moths. That's why it's important to have garment bags keep your dress clothes presentable for big days when it's essential to show up well turned out.
High quality promotional garment bags are also a commonly picked items by private label clothing brands. If you're looking for wholesale garment bags in bulk and other apparel accessories for your startup fashion brand, AnyPromo your trusted source for professional decoration with quality guaranteed.