40,000+ Positive Reviews
Over 200,000 customers served
99% of the Fortune 500 Use Us
Trending Golf Cloths, Bags & Accessories
View All >
100% Satisfaction Guarantee
Shop with confidence. Our customer service team can take care of any issue. Learn more about AnyPromo's satisfaction and 110% price guarantee. We not only match, but also beat any competitor's online advertised price for the same promotional item.
Trusted To Grow the World's Biggest Brands
Golf Items
Promotional golf items make great event giveaways, especially if you are hosting a golf tournament, fundraiser, or sporting event. Custom made golf tees with your logo imprinted can add an extra experience for your event and brand. Golf promotional items are great as an executive level giveaway to impress your prospective custom- ers and help build loyalty among your current customers. We provide golf bags, ball markers, divot tools, golf sets, golf tees, accessories, and hand towels so can put together the perfect promotional package for your mar- keting campaign. All our products can be customized with your imprinting, company logo, or message at whole- sale prices to make shopping for bulk orders much easier and budget friendly. By offering high value golf items to your stakeholders, you can create a more personalized approach to building brand loyalty. You can take your branding a step further by selecting sustainable and eco friendly golf items along with products made in the USA.
Find the Right Promotional Golf Products for Your Brand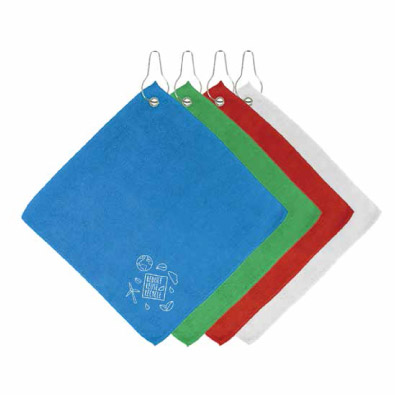 Hand Towels
Golf events and products can be a great way to foster a positive company culture. Promotional golf hand towel, such as microfiber, custom rally towels, and sports towels, will add a personal touch to any company golf outing or promotion. Golf hand towels also offer a great surface to display your branding, logo, and company colors in a subtle but eye-catching way.
Custom golf hand towels make great promotional items because they are useful, easy to distribute and store. Recipients can carry your personalized golf hand towels wherever they go golfing, helping to start conversations about your brand. In addition, your custom design can help engage new potential customers and promote brand awareness.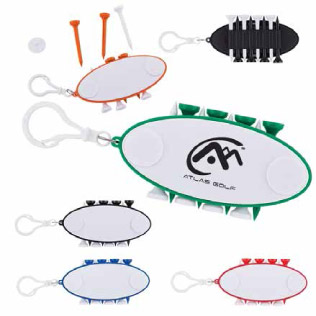 Golf Tees & Accessories
If you're in a golf-related industry or planning a golf event, promotional golf tees and accessories can be a great way to engage with employees and customers. You can offer any number of accessories, such as golf totes, golf tees, golf sets, and golf ball cleaning pouches. You can even get a miniature golf cart with your logo and branding on it as a keepsake!
Custom golf tees and accessories will display your logo, branding, and company colors in a way that is subtle but will also stand out. Golf tees and accessories can also be useful items, helping employees and customers remember your brand when they play in the future. Custom golf accessories can be a great way to set the tone for a company event and foster a supportive company culture.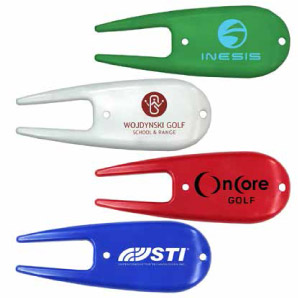 Divot Tools
Custom promotional divot tools can be a great way to add a personal flair to golf events and products. Divot tools are excellent promotional products because they are small, portable, and useful. They also offer a great surface to showcase your company name, logo, and branding.
With different styles and materials of divot tools, you can customize these items to fit your brand image and budget. You can also buy divot tools with add-ons such as ball markers or bottle openers. Divot tools can even come as part of deluxe sets for an extra-special gift. No matter the occasion, promotional divot tools will help you engage customers, generate leads, and boost sales.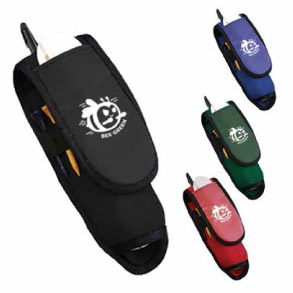 Golf Sets
Promotional golf sets can be great giveaways for a variety of industries. With a custom golf set, you'll have the option to include your branding on individual items like tees or divot tools, and on the set's overall packaging. This creates oppor- tunities to showcase different aspects of your branding with different items and designs. You can also get creative with the packaging, with options from keychains to zippered pouches to different types of golf totes.
At a golf outing or event, a custom golf set offers an easy way to ensure participants have everything they need in one simple, personalized package. We offer several different sizes and types of golf sets, from small sets of tees to larger kits that include everything you need for an outing.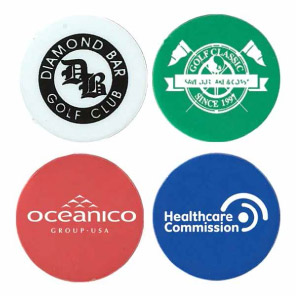 Ball Markers
Golf ball markers can be an efficient, affordable way to level up your golf event and showcase your company's logo and branding. Markers come in different styles with variable background colors, poker chip designs, or different metal materials.
Golf ball markers' small size and portability make them excellent promotional items. They are also very versatile and can come alone or in sets with other tools. They can be attached to divot tools, put together with tees, on hat clips, or even be part of a complete golf set. This offers several options based on your budget, style, and distribution plans.
Imprinted Putters, Electronic Scopes, Grommeted Towels & More
Take a sneak peek at our stock of awesome promo golf items currently available. Feel free to give us a call, and we'll help expedite your order!
7x Electronic Digital Golf Scope
Port Authority Grommeted Tri-Fold Golf Towel
Golf Divot Tool
ColorFusion 12" x 44" Workout Towel
Executive Golf Putter
UltraClub® Tri-Fold Velour Golf Towel with Carabiner
4-in-1 Golf Multi-Tool
Brew2Go Golfing
Rally Towels
And much more
Score the right promotional gifts!
Customized Golf Accessories Are Always A BIG Hit
Our custom golf products are quality-crafted and made durable. Each eye catching piece is specially priced and professionally imprinted to vividly promote your brand long after they are handed out.
Sink a hole-in-one with our huge selection of promotional golf products.
Check out these must-have golf gifts on sale now!
We Would Love To Help You With Your Next Project
Call Us

Tel: 877-368-5678 (Toll Free)
Monday to Friday
6:00am-6:00pm PST

Chat With Us

Chat with one of our Customer Care
Rep online. This service operates:
Monday to Friday
6:00am-5:30pm PST