40,000+ Positive Reviews
Over 200,000 customers served
99% of the Fortune 500 Use Us
Trending Flexible Magnets, Business Card & Clip Magnets
View All >
100% Satisfaction Guarantee
Shop with confidence. Our customer service team can take care of any issue. Learn more about AnyPromo's satisfaction and 110% price guarantee. We not only match, but also beat any competitor's online advertised price for the same promotional item.
Trusted To Grow the World's Biggest Brands
Magnets
Promotional magnets are a great way to stay top-of-mind with your potential customers! You can create a custom magnet they can see daily on their refrigerator to remind them of your brand and what you offer. We an immense magnetic promotional item selection to choose from, such as flexible magnet calendars, business cards they can keep on their fridge and appliances, and magnetic clips and hooks. Promotional magnets are a perfect marketing and follow up too for real estate agents, schools, medical practices, appliance repair, pet care, and cleaning services. They can make the difference between a returning customer who grows your business, to losing out on opportunity to your competition. A great example is when an appliance repair technician offers to place a magnetic business card where work was completed to make it easier for the customer to find help should they need it again. There are so many different types and shapes of magnetic clips and business cards so you can find the perfect one for your brand.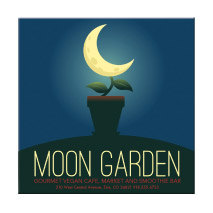 Flexible Magnets
Flexible magnets are tried and true promotional items. They offer great surfaces to display your company's name, logo, information, and a custom branded design. With a creative look, flexible magnets can be fun items for employees and customers to hang up in their homes and offices. This will help show your design to their family and friends and boost your brand recognition.
With flexible magnets, you can use creative shapes, include add-ons like calendars, and make space for your innovative designs. Magnets are great promotional tools because they are being low-cost, easy to distribute, and likely to engage recipients over a long time. Promotional picture frame magnets can make a memorable moment even more special with the people who matter most.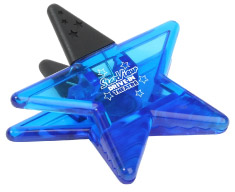 Magnetic Clips & Hooks
Magnetic clips and hooks are excellent promotional tools for any number of industries, from education to healthcare and even entertainment. Recipients will often use magnetic clips and hooks to keep memorabilia or important documents that they want to reference and find again easily. This will encourage use and engagement with your brand over time.
With a wide variety of shape and color options, magnetic clips and hooks offer many design opportunities. You can order custom magnetic clips and hooks in your brand colors with your brand name and logo imprinted on them. You can also choose shapes that align with your mission and industry, like a house, heart, or lightbulb shape.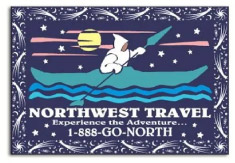 Magnetic Business Cards
Get creative in your brand promotion with magnetic business cards. This is a great way to add value to your business card, making it polished and durable. While traditional business cards can be easily lost or damaged, magnetic business cards are likely to be displayed in a visible area.
Magnetic business cards offer a variety of design opportunities. You can choose different shapes and sizes and imprint your brand name, logo, and design in a clear image with vibrant colors. You can also select the size of your magnet to make sure that the image is clear and information is easy to see.
Imprinted Plush Magnets, Billboard Clips & More
Take a sneak peek at our stock of cool promo magnets and clips currently available. Feel free to give us a call, and we'll help expedite your order!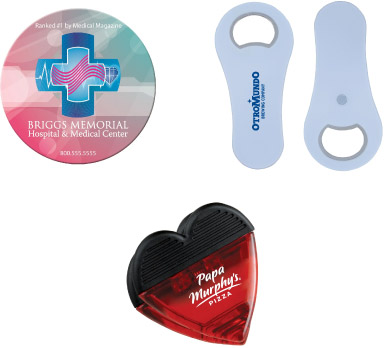 Plush Magnet - Duck
Tulip - Die Cut Magnets
Star Memo Holder Magnet
Power Clip House
Billboard Clip
BIC® 30 Mil Extra Large Stock Shape Magnet
Plush Magnet - Dog
Circle Magnet - Basketball
Stock Shaped Magnets - Telephone
And much more
Customized Power Clips Make Great Gifts
Our custom magnets and clips are quality-crafted and durable. Each eye catching piece is specially priced and professionally imprinted to vividly promote your brand long after they are handed out.
Choose from our huge selection of promotional magnets and clips. Check out these must-have promo magnets and clips on sale now!
We Would Love To Help You With Your Next Project
Call Us

Tel: 877-368-5678 (Toll Free)
Monday to Friday
6:00am-6:00pm PST

Chat With Us

Chat with one of our Customer Care
Rep online. This service operates:
Monday to Friday
6:00am-5:30pm PST