Stress Relievers:
1379 items total
40,000+ Positive Reviews
Over 200,000 customers served
99% of the Fortune 500 Use Us
Best Selling Custom Squeeze & Stress Relievers
View All >
Trending Fidget Spinners, Stress Balls & Shapes
View All >
100% Satisfaction Guarantee
Shop with confidence. Our customer service team can take care of any issue. Learn more about AnyPromo's satisfaction and 110% price guarantee. We not only match, but also beat any competitor's online advertised price for the same promotional item.
Trusted To Grow the World's Biggest Brands
Custom Stress Relievers
Custom stress relievers and promotional fidget items are fun giveaways anyone can enjoy throughout the day. We have a wide selection of custom stress ball shapes and colors, sports-themed, industry themed, and smiley face promotional items. In addition to squeezy stress balls, we offer fidget spinners, push pop or bubble poppers for people to enjoy. Even the push pop items come in various shapes and colors so you can find the perfect item for your event or customer. Personalized squishy toys are great items for schools, nonprofits working for families, and healthcare practices. We have stress balls that can be used for a wide range of industries, from police toys to various anatomy stress toys that can be given away by medical practices. We make finding the right stress reliever promotional products easy, so you can bulk order a custom fidget spinner or a globe stress ball at wholesale prices.
Find the Perfect Custom Stress Reliever for Your Brand
Solid color round stress balls are great promotional products because they are cost-effective and have a wide appeal. They can be a great tool to improve your brand's visibility and sales.
You can design custom push pop stress relievers in unique colors, shapes, and sizes that match your brand's logo and style. Custom push pop stress relievers make great gifts for radio stations, health care providers, chiropractors, businesses, and non-profit organizations.
Sports stress balls are highly customizable to suit your brand identity. You can choose the type of ball you'd like to buy and imprint your brand name and logo in different bright colors. Sports stress balls can be great gifts for everyone, expanding the potential exposure for your business.
Stand out from your competitors by giving custom brain stress relievers at your next career talk, trade show, or exhibition. They can help catch customers' attention and engage them with your brand as they use your custom brain stress relievers.
Custom fidget spinners also allow you to get creative with your branding, showcasing your company with your brand name, logo, or personalized message. Branded fidget spinners are perfect promotional products for schools, healthcare centers, clinics, waiting rooms, and businesses geared towards kids or families.
Promotional Stress Balls: Sumo Wrestlers, Laptop Computers, Foam Keychains & More
Take a sneak peek at our stock of promotional stress relievers and stress balls currently available. Feel free to give us a call, and we'll help expedite your order!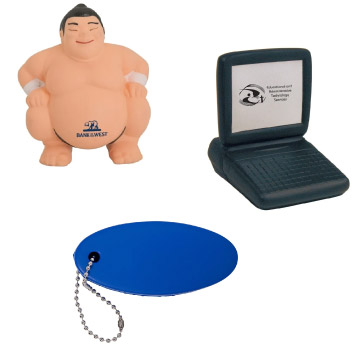 Foam Key Chains - Stress Relievers
Laptop Computer - Stress Relievers
Brain Shaped Squeezies Stress Relievers
Trophy - Stress Relievers
Sumo Wrestler Squeezies Stress Reliever
Hard Hat Squeezies Stress Reliever - White or Yellow
Patriotic Star Key Chain - Stress Relievers
Building Block Individual Piece - Stress Relievers
Custom Round Stress Ball With Multi Color Choices
And much more
We Would Love To Help You With Your Next Project
Call Us

Tel: 877-368-5678 (Toll Free)
Monday to Friday
6:00am-6:00pm PST

Chat With Us

Chat with one of our Customer Care
Rep online. This service operates:
Monday to Friday
6:00am-5:30pm PST