Promotional Wellness & Safety
40,000+ Positive Reviews
Over 200,000 customers served
99% of the Fortune 500 Use Us
Best Selling Custom Wellness & Safety Items
View All >
Trending Sanitizer, Lip Balm & Personal Protection
View All >
100% Satisfaction Guarantee
Shop with confidence. Our customer service team can take care of any issue. Learn more about AnyPromo's satisfaction and 110% price guarantee. We not only match, but also beat any competitor's online advertised price for the same promotional item.
Trusted To Grow the World's Biggest Brands
Wellness & Safety
Giving your customers promotional wellness and safety products is a great way to show that you care about their wellbeing and value them as more than simply a customer. We provide custom health and wellness products that you can use to promote your business, brand, healthcare organization, school, or nonprofit cause. Whether you are a medical practice looking for promotional pill bottles or a beauty salon and spa seeking to give away nail files with your business logo, we have quality wellness products for you to choose from. We provide many different forms of sanitizer and personal protective equipment promotional items, such as sanitizing sprays, sanitizers that clip to your backpack, and customizable tissue and wipe packs. We at AnyPromo want to help you make the most of your marketing efforts, which is why we provide wholesale and budget-friendly pricing. Try our custom printed cooling towels or promotional sunblock and see how you can make a positive lasting impression on the people who matter most to your organization.
Find the Right Wellness & Safety Promotional Products for Your Brand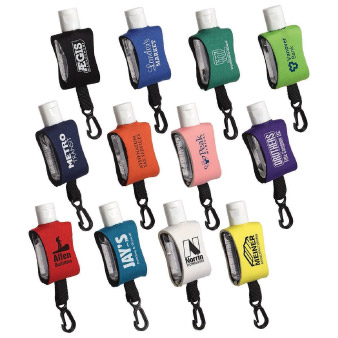 Sanitizer
Promotional hand sanitizer shows to your audience and recipients that you care about their wellbeing while promoting your brand and organization with them. You can have a custom imprint on the hand sanitizer and share your message with the people who matter most. You can find sanitizing custom wipes, hand sanitizer pens with logo, spray sanitizers, and even some that come with a clip on feature to allow people to hold onto your giveaway item wherever they go. Hand sanitizers and sanitizing items are perfect to help people remember and appreciate your brand when they need it most. You can order bulk custom hand sanitizers from AnyPromo and stock up to share with people throughout the year.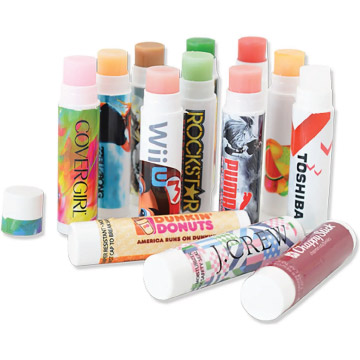 Lip Balm
Promotional lip balm is great for making a meaningful impression. People reach for their lip balm when they need relief for their lips from the weather or if they want to add the product to enhance their look. Lip balm promotional products get repeated use and can last over a year. People will keep it on them, in their purses, in their backpacks and it can last for a long time. Custom lip balm and lip gloss products can delight your event attendees, prospective customers, or students. You can customize lip balm with your logo or brand imprint for easy brand recognition. Our lip balms come in all sizes, such as round containers, square and twist tubes. We also carry the brand name Eos Lip Balm so you can find exactly the type best suited for your brand. Try our lip balm or EOS promotional products out, we know your audience will love them.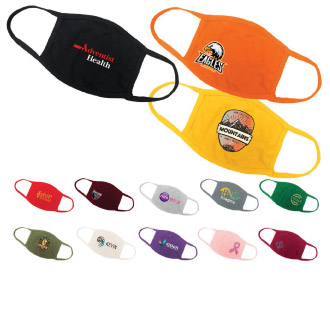 Personal Protection
Personal protective equipment, especially face masks, have become staple products for companies to brand and give away to people. It does a great job in promoting your brand because people wear the custom printed face mask directly on their face with your logo for everyone to see. It shows that you care about your customers, students, event attendees. It also helps to demonstrate that you can take care of business because you are thinking ahead and prepared for people's safety with branded personal protective equipment (PPE) and face masks. From face masks to face shields and gloves, we can help you find the right protective product for your event and brand.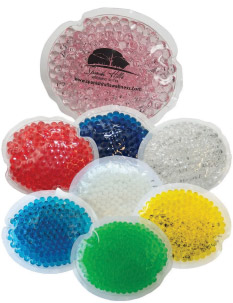 First Aid
Branded first aid kits, bags, bandage dispensers, and cold packs are memorable and helpful ways to connect with your customers or audience. It shows you care about providing them with value, utility, and being a resource when they need you most. First aid kits, promotional heat packs, and custom hot/cold packs are effective because they are one of those lifesaver items that help out when someone needs them most and people will hold onto them for as long as they last. First aid kits and promotional heat packs are items with higher perceived value because they have real utility people can count on, so they are kept for a long time and continue to remind people of your brand.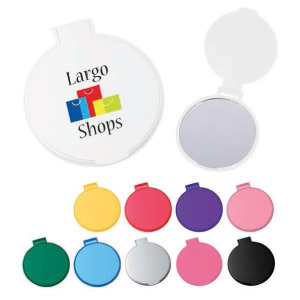 Cosmetic Products
Promotional cosmetic products, combs, beauty products, and customized mini mirrors are all personal ways to get your brand front and center of your audience. People regularly depend on mirrors, combs, and personal products you can custom order from AnyPromo. These wellness products are a staple in almost everyone's home and even purse or travel bags. People can get the sense they can rely on your brand, products, or services when they are using a custom branded personal product with your logo or message on it. It will regularly remind them of you and the fact that you cared enough to share these cosmetic products with them to make their day better.
Promotional Wellness & Safety Products
When you give a safety or wellness related promotional product, you're getting involved with a consumer's well-being.
There's no better way to show a customer you care than with branded wellness and safety giveaways. Whether it's a first aid or fitness related product, consumers appreciate brands who contribute to their health.
When you become part of someone's self-care or fitness routine with a well-thought giveaway, you're getting the best brand sentiment. That's why gyms, hospitals, and even schools are big fans of giving away hand sanitizer and lip balm. Self-care giveaways are a staple of branded promotions because they are often immediately helpful.
Whether you're looking to change your company culture or are trying to get through flu season, AnyPromo has a wellness and safety product to fit your needs.
Fitness tracker wristbands are great for office fitness challenges and getting everyone to keep track of their steps per day.
Giving out hand sanitizer during cold and flu seasons is a great way to help prevent employees from getting sick.
Why do so many businesses and organizations trust AnyPromo for personalized wellness and safety products? AnyPromo is the best source for wholesale custom self-care and wellness giveaways because not only do we stand by our product with a 100-day return policy, we guarantee the lowest online price.
Promote Awareness with Custom Wellness Gifts
With promotional hot and cold packs, lip balm sticks, and hand sanitizers, you have tons of customization options. Whether you're looking for pad printed lip balm spheres or full color lip balm tubes, you're sure to find the perfect personalized self-care product to represent your brand.
The 2 most common safety and wellness product customization methods are:
Screen printing, which involves applying one or more layers of ink to your custom wellness gift through a custom-made mesh screen of your logo or design.
Full color printing, which involves digitally printing a full color image on your self-care giveaway with CMYK (cyan, magenta, yellow, black) ink.
Most customers choose full color printed lip balm and hand sanitizer because it provides a private label look. Full color labels are a customer-favorite of all industries because with a fully printed label, it looks like you manufactured the lip balm or hand sanitizer yourself.
When giving out custom safety and wellness giveaways, we know how important it is for the imprint to be clear and distinct. We have a 100-day return policy so that you can shop with assurance you'll really get a quality logo on your product.
We also have a graphic design team at your disposal free of charge so that you don't have to be an expert to get a custom labelled lip balm that looks good.
All Kinds of Promotional Safety Items
UVA/UVB Protection Artisan Lip Balm SPF15
AnyPromo is the cheapest online source for custom branded wellness and safety items, guaranteed. If you find any of these hot and cold packs, hand sanitizer bottles, or lip balm tubes customized cheaper anywhere else, we won't just match the price, we'll beat it.
We have customized fitness trackers that measure sleep and heart rate to make your in-office fitness challenge state of the art.
Not only is custom lip balm with a full color printed label a customer favorite, but we also have the lowest online price.
When buying fitness or wellness gifts wholesale for giveaways, we know how much our customers care about getting a great deal. That's why if you find the same products customized at a lower price elsewhere, we'll beat the price by 10%. That's our best price guarantee.
We are dedicated to making promotional wellness giveaways affordable. With AnyPromo's selection of budget-friendly health and wellness swag for customization and our lowest price promise, even small businesses can afford to promote their brand with hot/cold packs, compact mirrors, or first-aid kits imprinted with their logo or custom design.
Trending Promotional Wellness & Safety Items
Check out what our satisfied customers have to say about our custom safety and wellness giveaway products:
"Absolutely love them! they work very well and our patients love them too. We got the clear and they look really nice, once frozen they look white and you're able to see the logo even better." - Michelle (Small Round Gel Beads Hot/Cold Pack)
"We ordered the vanilla bean. It's not a very strong smell, but that's not a bad thing! It's very smooth, too, not nearly as waxy as Chapstick. These are really great quality-- especially for the price! This lip balm is one I would buy for myself. And I'm really glad I have access to the extras! Oh, and they're sealed so everyone knows for sure they're getting a fresh stick. VERY nice." - Kelly (UVA/UVB Protection Artisan Lip Balm SPF15)
When finding your preferred source of custom lip balm, hand sanitizer, or hot and cold packs, we know that customer service matters.
At AnyPromo, we believe buying wellness-related promotional products with your custom logo should be as easy as possible. Buying promo first-aid, fitness, or self-care products for your company or organization should never be a hassle. Our customer support team is ready to help you find the right promotional wellness product to go with your branding.
You don't need to navigate our giant selection of bulk and wholesale self-care and wellness products alone.
Do you need a hot/cold pack that matches your company or school colors? Give our promotional product consultants a call to find the perfect colored ice pack.
Are you looking for a lip balm stick with a pleasant flavor? Let us know, and we'll get a product specialist to assist you find the right flavored lip balm.
Trying to get promotional hand sanitizer on a budget? Let our customer service agents know how much you're working with, and we'll find hand sanitizer bottles at the right price.
Still have questions about getting custom wellness items made with your logo or custom design? Call us at 1 (877) 368-5678 or hit "Live Chat" at the top of the page to get in touch with our friendly experts who can help you find the right promotional giveaway to spread your message.
Winning Promotional Wellness Gifts
Promote your brand through an instant ice pack with your logo on it or go with a full custom beach kit. Experience a wide variety of eye-catching custom health and hygiene products to promote your brand.
Our durable custom wellness products are specially priced and professionally packaged to promote your brand in the best light. Search our site for a great selection of sani wipes, survival kits and more!
Dive into our inventory of promotional wellness & safety items on sale now.
30% of U.S. consumers own promotional wellness and safety items (ASI).
82% of U.S. consumers can immediately remember the advertiser's name on the safety product they own (ASI).
27% of U.S. consumers who own a health and safety product report they carry it with them (ASI).
According to PPAI report findings, 73% of people who used the promotional product that they received said they'd continued to use it at least once a week.
Promotional wellness and safety products, including hand sanitizers, pill cases, and sunscreen, to name a few, are among the most commonly used promotional items among U.S. consumers, with nearly 30% of people saying they take it with them when traveling.
We Would Love To Help You With Your Next Project
Call Us

Tel: 877-368-5678 (Toll Free)
Monday to Friday
6:00am-6:00pm PST

Chat With Us

Chat with one of our Customer Care
Rep online. This service operates:
Monday to Friday
6:00am-5:30pm PST